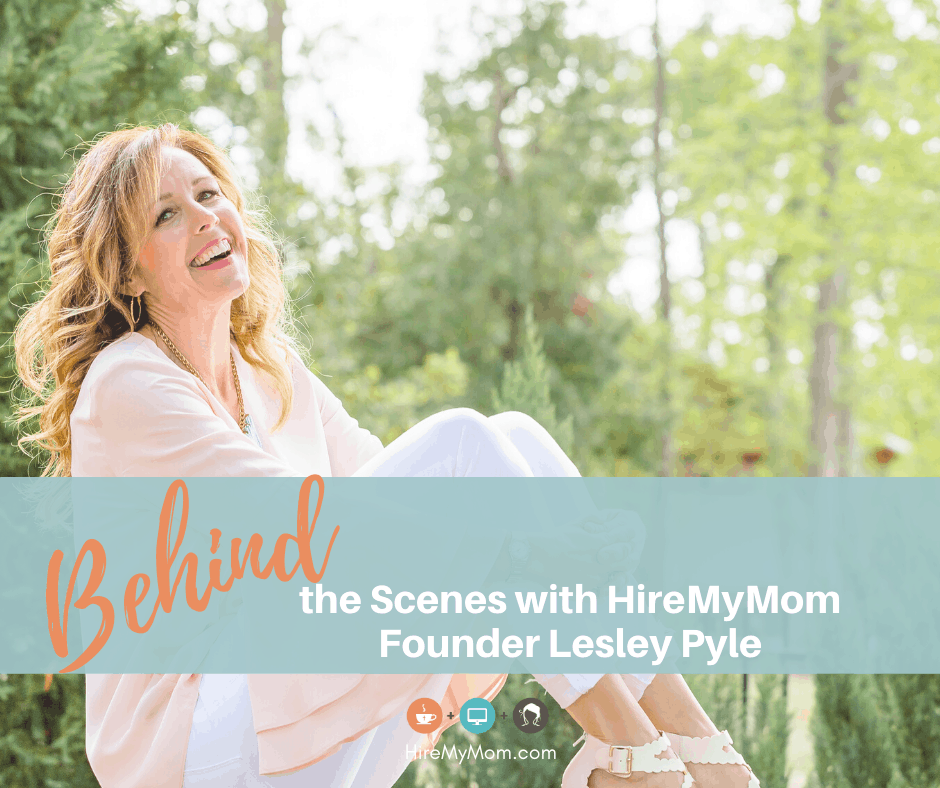 Behind the Scenes with HireMyMom Founder Lesley Pyle
Why did you become an entrepreneur?
I sometimes call myself an accidental entrepreneur because it was not in my original plans. However after having my first child, I desperately wanted to be at home with her. I had just finished my Master's degree and had always dreamed of climbing the corporate ladder. But after having her, I wanted nothing more than to work from home and be able to be an integral part of her life. The most appealing part to me at the time was having freedom and flexibility in my day and that's still a huge benefit all these years later!
What changes did you have to make start your entrepreneurial path?
When I first started out, I made the difficult decision to quit my full-time job which meant we needed to cut our living expenses significantly until I could get my freelance business going. We sold one car, got rid of cable TV and cut out every other bill we could. We ate more ramen noodles (hello cheap!) than I care to remember. It was rough getting started, but it gave me such drive to make sure I was successful. I knew if I wasn't, then I would be forced to look for a job.
What has been the toughest aspect of being an Entrepreneur?
Going at it alone has been difficult at times. When you work for yourself, there's no team members to turn to or bosses to teach you things you don't know how to do. You are responsible for learning new skills, staying on top of new technologies, hiring the right people, and knowing when you may need to hire a coach to help you through some of the areas you are lacking in.
What advice would you give to someone who was thinking about transitioning into the entrepreneur life?
I would recommend really taking the time to discover what you are passionate about and what you are good at. Don't just do something because you think you will make money. The honeymoon will be over on that before you know it. I believe you'll have much more success doing what you love. Because then, it doesn't feel like work, right? I love what I do and I look forward to sitting down at my desk every day. Instead of looking at the clock 20 times a day wondering if its 5:00 yet, I look at it and think "oh no, I only have x more hours to work today". That's when you know you love what you do!
What do you enjoy most about being an entrepreneur?
I love being creative and being in charge of my time and my future. I love setting new goals for myself and growing by learning new things. And let's face it, who doesn't love being able to pack a bag anytime you want and take your work on the road for as long as you want! Last year, my husband and I were able to take off for 10 days to Hawaii where one of our daughters was playing her last collegiate volleyball games of her career and we got to be there for those and to celebrate her on Senior Night! Priceless memories, and I probably would not have been able to do that if I worked a traditional job.
What book are you currently reading?
I'm currently reading "The Compound Effect" by Darren Hardy because I need reminders that small choices day by day make huge differences in the future. So far, I'm loving it!
What does your daily routine look like?
I get up around 6am and have my coffee, prayer and Bible study time for about an hour to get myself focused in the right direction. Then I get my youngest up and ready for school. From there, I often work out for an hour, then head to my home office where I work until around 4pm when our youngest gets home from school. My work day includes writing, creating content, responding to customers, engaging with my community and working on daily goals.
What is something most people don't know about you?
I am a first generation college student. I put myself through college with the help of loans, grants and the work study program. Upon graduation, I had a hard time getting my first job so I decided to look at scholarships for graduate school. I found the biggest one and figured I'd start with it. It was a full scholarship to study abroad in any country from Rotary International. To my surprise, I won the scholarship and attended the University of Stirling in Scotland where I received my Master's in Marketing and Public Relations! That taught me that when God closes one door, there's usually a bigger, better door waiting for you!
Have questions or want more information on HireMyMom? Contact us!
home business, Lifestyle, Mompreneur, Small Business, Work from Home Success, Work from Home Tips