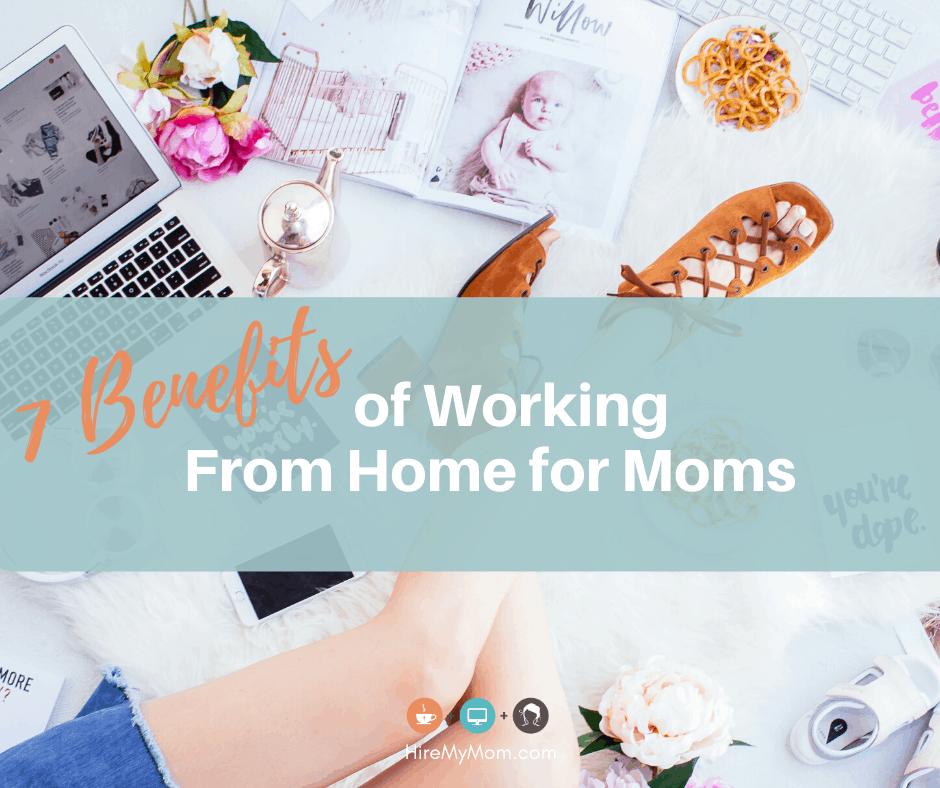 7 Benefits of Working From Home for Moms
Are you contemplating working from home? Many of us Moms do, in fact, for our HireMyMom members – the contemplation has become a reality!
Most Moms make the decision to work from home because of at least one of the following:

1. To be at home more for their children,
2. To have more freedom and flexibility in their schedule,
3. To be their own boss,
4. To earn money for their family.
Working from home can be an amazing experience, but it does require some key qualities:
Self discipline,
Strong organizational skills,
Effective time management,
Flexibility,
Administrative skills
(If you don't have a lot of administrative experience, we highly recommend our 31 Day Virtual Assistant training program.)
WHAT ARE THE BENEFITS OF WORKING FROM HOME?
Flexibility

– when you work from home, you have the ability to work at your own pace, set your own hours as well as the amount of hours you want to work.

Control over your work environment

– imagine being able to create your own unique work environment … from the paint on the walls to your office furniture, you can design the work space you want. You can also play whatever music you want, add some refreshing scents, and create a personalized atmosphere for your work environment.

Wear what you want – whether you want to work in jeans and a t-shirt, your favorite yoga pants, or even your PJ's, your mornings are a little less stressful and more harmonious when you don't have to worry about putting on business attire.
Less disruptions and more productivity – other than the kids coming home from school, there can be a lot less distraction when you work from home. You can focus on getting your work done without office chatter and impromptu stop ins to your office.
No commuting – say good-bye to the long drives and getting caught in rush hour traffic. A work from home job requires very little travelling, if at all. With no fuel costs or wear and tear on your car, you are saving both time and money.
You can get chores done on your breaks – you can take a quick break from work to throw a load of laundry in the wash, start the dishwasher, or give the floor a sweep. By the end of the day, there will be less chores to do and more time for you.
More time for your family – when you work from home, you're there for your family when they need you. You can work your schedule around soccer games, dance practice and doctors appointments quite easily. Because you aren't commuting, you get off work earlier and start family time as soon as you shut down your computer.
More and more companies are starting to recognize the benefits to having work from home employees. The surge in self employment has caused a demand for this type of work, especially in cases where a business is starting to grow, but they can't afford the costs of hiring internally.
As technology evolves, there will only be an increased demand for work from home employees, freelancers, and entrepreneurs.
If you think working from home might be a great fit for you, our "Top 10 Work From Home Jobs" is worth the read. We cover some of the most in demand jobs based on our postings here at HireMyMom.
If you're ready to step into a work from home role, you can sign up on HireMyMom and gain instant access to our database of remote job postings.
We look forward to seeing you as one of our Success Stories!
Being Mom, home business, Mompreneur, Work From Home, Work from Home Success