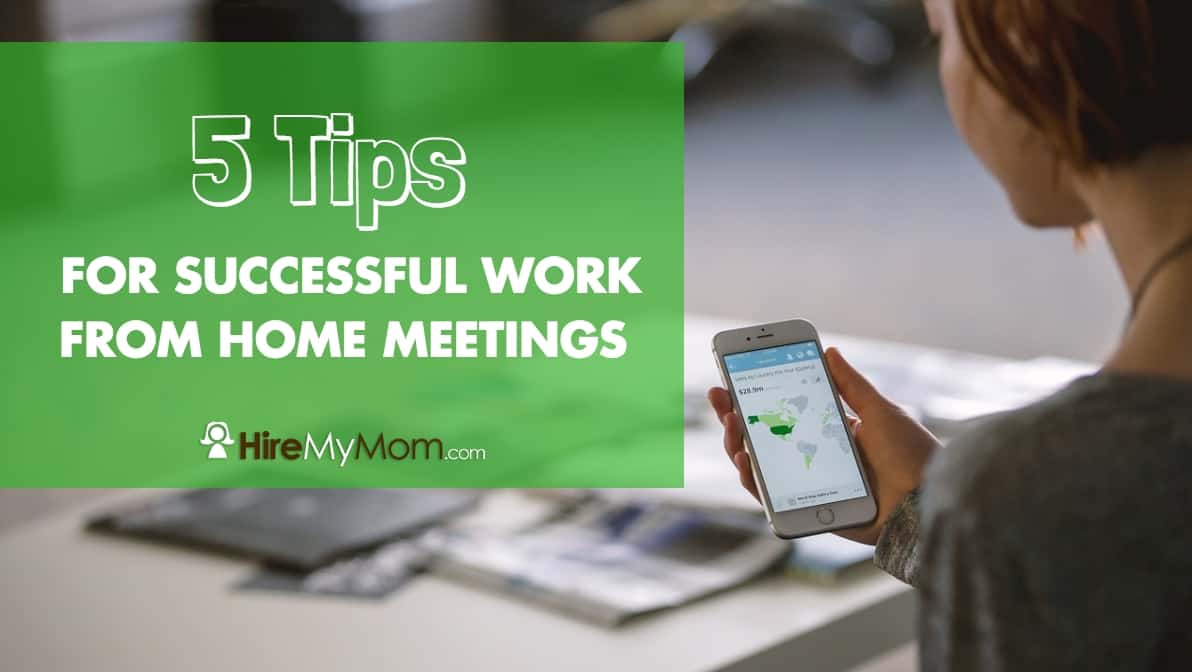 5 Tips for Successful Work From Home Meetings
Even though home based employees don't work in a traditional office, they typically still have meetings just like everyone else.  Whether meeting with co-workers or your boss, clients or potential customers, meetings will still be a key component to your days or weeks.
Working from home can present challenges that aren't present in a normal office, so read along for some best practices for work from home meetings.
Eliminate distractions
When working from home, there can be noise from kids, dogs, or people knocking on your door, just to name a few.  While these things happen and most people understand, it's important to do your best to eliminate these distractions.
Can you set up a playdate for your kids during an important meeting?  Is it possible to give your dog a treat outside or in the crate while you chat?  It's crucial to have some time and space carved out for a quiet, productive meeting when the time comes.
Check technology
There's nothing worse than a meeting ruined by technology!  While sometimes there's absolutely nothing you can do with a chosen software service, do your best to access the technology ahead of time.
If you're going to be using a webinar or conference phone line or software package, try it beforehand and make sure everything has been installed correctly.  This way, you're able to join the meeting on time and without errors.  If you're unsure if you've been hooked up correctly, ask a friend or coworker to test it out with you.
Have an agenda
Agendas are important for all meetings, not just home based ones.  Especially if you're the one in charge of the meeting, make it a point to map out a brief agenda of topics to cover.  The typical opinion of meetings can be that they're a waste of time; don't let this happen to you!  Ensure that your meetings are productive, to the point, and involve a schedule that can be easily navigated.
Not only will your other meeting attendants be grateful for something to keep them on track, you'll get out of the meeting much quicker than you would if you went into it blindly.
Take notes
Notes are key to remembering what went on and who is assigned to what tasks.  Whether you're the note-taker or designate someone else to do so, make sure this is in place before the meeting begins.  When deciding on who should take the notes, it can be helpful to choose the person who might be in more of an assistant role, or someone who doesn't need to be 100% focused on the conversation at hand.
Treat it normally
Working from home can be an excuse to fall into lazy work habits, but that's not productive or professional to your employers or coworkers. Treat every single home based meeting just as you would in an office; it might even help to dress up if it's a very important one.
Set your office for success, eliminate distractions, have everything in place ahead of time, and your meeting will be productive and efficient – the hallmark of a great meeting!
Home Office, Small Business, Work from Home Success, Work from Home Tips