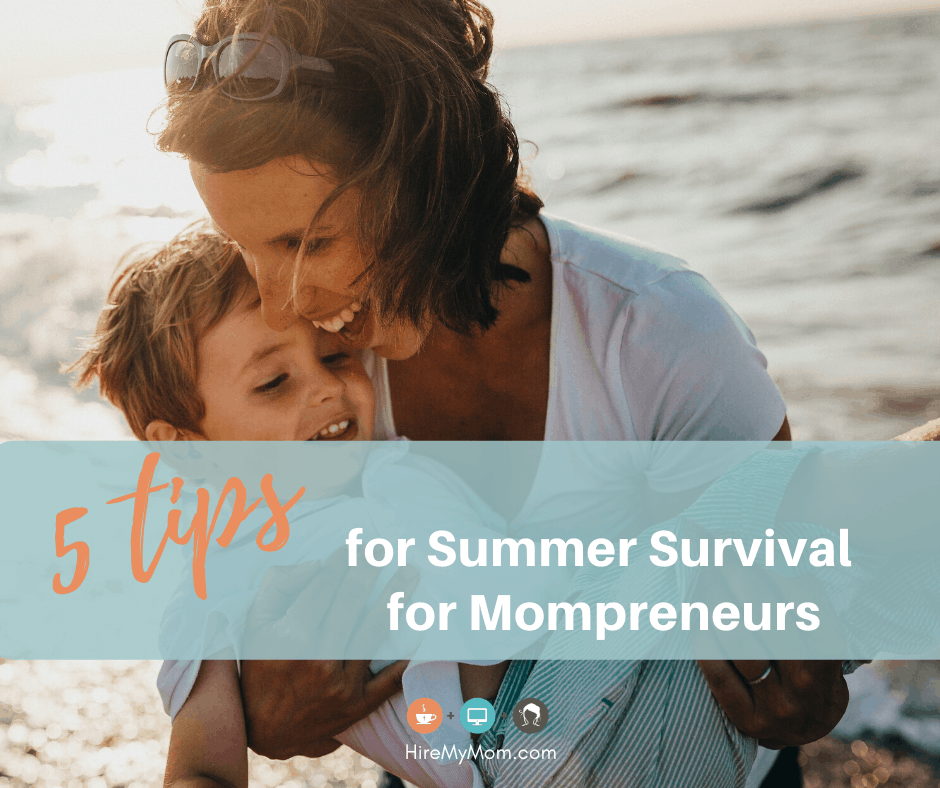 5 Summer Survival Tips for Mompreneurs
Summer is a time to savor, to be joyful and present. A time to enjoy slower mornings, extra cups of coffee, a break from packing lunches and more time spent with family and friends.
For mompreneurs who run a home based business, this can also create some stress trying to adjust to a different routine and more interruptions throughout the day but it doesn't have to. It is possible to have the best of both worlds during your summer break: time to set goals, work your business and keep the momentum going you've worked so hard to build as you work towards the amazing plans God is preparing you for while enjoying quality time with your family.
I hope to inspire you with this post as I share my best 5 tips for surviving the summer as mompreneur: tips to help you balance the passionate creative side of you who loves to work on purpose filled projects and the mom side of you who craves to savor and be present with those who matter most.
1. Embracing Slowness
The foundation of these summer survival tips is to embrace slowness. As a busy wife, mom and mompreneur myself, I whole-heartedly understand how easy it is to look at the word "rest" and be tempted to let out a sarcastic chuckle because slowing down can feel almost impossible most days.
There is always something that demands our time. Something to take care of, something that interrupts the flow of our attention but it's important to remember that rest is a command God calls us to.
Rest is first mentioned in Genesis 2:2-3 where God rested on the seventh day of creation and if God felt it important to rest, shouldn't we? When we are aware of our state of busyness and take control of where we focus our energy, we can rest in God's presence drawing ourselves, our family and our business deeper into Him.
Because the fact of the matter is when we are overworked, tired and weary we are more vulnerable to disobeying God. Hebrews 4:11 reminds us "strive to enter that rest, so that no one may fall by the same sort of disobedience." We can't stop the demands of life. There will always be something pulling and tugging at you and for us moms, rest unfortunately doesn't come naturally for most of us and that is why we have to work to intentionally embrace rest and invite God to refresh our weary spirits. It's okay to let dishes sit in the sink a little longer and end the day without getting a load of laundry on because you chose to surrender into rest.
2. Stick To A Schedule
Summer will feel less hectic if you stay rooted in a routine. When your day runs as normal as possible versus having your days run together like a free for all, then unexpected changes or plans don't feel so disruptive. This will also help you easily transition once summer is over and the kids are back in school.
Having a routine for the kids will create more structure and help to cut down on interruptions. Maybe you have a chore and activity chart for them in the mornings where they can earn some electronic or movie time so each morning they know what to expect and you know exactly how much time you will have to work with limited disruptions. A household is usually happier and healthier with a routine.
3. Priorities
During the summer you may have to re-evaluate what your priorities are so you are only adding what is necessary to your calendar. This may require you to set tighter boundaries on what you say yes to. A client who wants you to tackle a large project with a tight deadline may not work with your schedule while the kids are out of school.
If it's not in your best interest or that of your family, be honest with your client so they can find someone who can meet their expectations or see if your client can wait until the kids are back in school for the project to be completed.
Piling too much on your plate during the summer will only leave you feeling weary and resentful in the long run. Before saying yes and committing yourself take some extra time to think and pray about it before saying yes.
4. Savvy Scheduling
In order for the summer months not to stress you out and stay on top of your work while enjoying quality family time, it will require some pre-planning.
For example, if the kids want to hit the local library on Monday morning for some new books to read or one of them has an orthodontist appointment in town, plan to spend the whole day together and take care of any other errands while you are out like the grocery store, dropping off cleaning for the hubby, etc.
This allows you to focus on being productive and getting quality work done Tuesday-Friday which means you won't feel the least bit guilty about unplugging for the day with your family.
This approach keeps you from running around all week and feeling frazzled about not having time to focus on your work. So Sunday night, plan your week out so you know what days you need to be out and take care of as much as you can. Keep your weekly schedule somewhere visible like the fridge and let your family know that on the day you will be out everyone needs to take care of their to-dos.
5. Limit The Financial Stress
Summer can not only be a time stresser but also a financial one. Look for ways you can have fun without breaking the bank. Check your local paper for free family friendly activities happening in your community, follow your favorite restaurants on social media and keep an eye out for weekly specials, visit a local state park. You don't have to spend a lot of money over the summer to make it meaningful or memorable. There are tons of ideas on Pinterest for budget friendly family summer activities.
I hope these tips have encouraged you and helped you to feel more empowered about how to tackle summertime as a mompreneur so you can feel productive in your business and stay present as a mom.
HireMyMom is a community dedicated to helping women and moms find legitimate work from home jobs. Learn more about our community, resources and trainings.