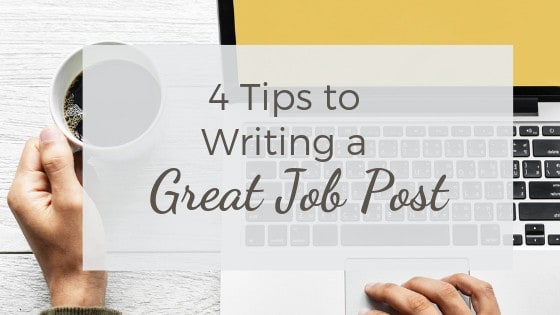 4 Tips to Writing a Great Job Post
As a business owner, we know that your time is valuable, and you do not want to spend unnecessary time on the hiring process. That's why we've created a strategy to help you attract and hire the best candidates for your needs.

The first thing you need is a great job post.
A well-written job post will:
Include a brief overview of the job role and responsibilities.
Briefly explain what tasks the candidate will be doing.
Indicate any specific experience or skills you are looking for.
Give estimated hours needed per week and if applicable, the specific hours of the day the candidate is needed.

Here is an actual job post we've had on HireMyMom: "I'm looking for a VA I can grow my business with long-term. Hours will increase with growth. I need soeone good."
Not only does the job post have spelling errors but it does not include any real information about what the job entails or what skills the candidate needs.

Aim for clarity with your job postings.
If you want qualified, experienced, knowledgeable applicants, make sure you job posting is clear and thorough. It doesn't have to be long but make sure the applicants have a clear understanding of what you need.
We do offer our personal "VIP Concierge Package" where we will write your job posting, interview candidates and present you with the top 1 or 2 candidates. Contact us for details.
Small Business, Virtual Team, Work From Home, Work from Home Tips