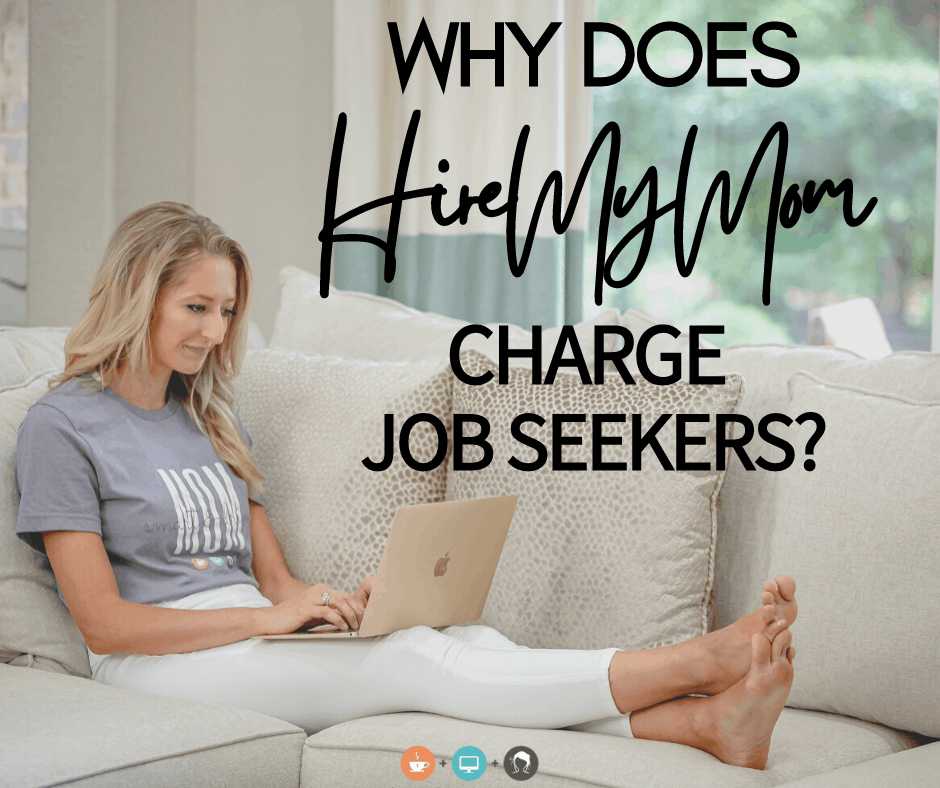 Why Does HireMyMom Charge Job Seekers?
It's a FAIR question!
And probably the one thing may keep you from signing up on HireMyMom.
Am I right? You want to know why in the world you should have to pay to find a job.
We get it. We know. We hear you!
This is a very good question and one we are happy to answer so here are the reasons there is a fee to sign up on HireMyMom:
1. Unlike most job sites, we do not take any commissions from our job seekers.
Many so-called "free" sites don't charge you to apply BUT if you are hired, you often will be paying 10-20% of your earnings back to the job site.
So if you got a part-time job on a "free site" that takes commission from your earnings and you make say $2,000 per month, you would be paying $200-$400 EACH month (10-20%) of that back to the job site EACH and EVERY MONTH!
With HireMyMom, your subscription fee can typically be recouped in the FIRST FEW HOURS of your new job.
On HireMyMom, what our Mom Professionals earn, they keep …. well except what Uncle Sam gets!
2. The small fee to sign up helps keep the number of job seekers to a REASONABLE SIZE vs a "free" membership where you are competing with THOUSANDS of other job seekers and are virtually INVISIBLE to hiring companies.
And remember if you are lucky enough to be hired by one of the "free" sites, you know what happens (see above)!
3. Businesses tell us they PREFER to use HireMyMom because we DO charge a small fee. When they post on "free job boards" they are inundated with hundreds or thousands of resumes and do not have time to sort through them all.
One business owner told us she got 900 applicants in less than 24 hours on a "free" job site! On HireMyMom, she got 24 applicants — MUCH easier for a small business to handle! OH AND she said the CALIBER of the CANDIDATES on HireMyMom was heads and shoulders above the "free" job sites. We think partially because we attract SERIOUS job seekers who put time and effort into their resume, cover letter and skills because they are READY to find a GREAT REMOTE JOB and don't mind a small fee knowing there are NO COMMISSIONS to pay!
4. Unlike many other job sites, at HireMyMom we do not pull job ads off of the internet.
All jobs on HireMyMom are posted BY the employer and in most cases these jobs cannot be found anywhere else on the internet.
5. We aim to keep HireMyMom 100% scam free.
Each job that is posted goes through our approval process.
We research the company / person, look for negative reviews and other red flags before deciding if a job will be posted to our members. And there are many that do not pass the test and do not get posted.
6. By paying for a subscription, we also weed out non-serious job seekers who will apply for any and everything making it harder for you to stand out in the crowd AND harder for the hiring person to weed through 100s or 1,000s of resumes.
So you see, we aren't trying to make a fortune on you to apply to unlimited jobs with zero commission fees.
We are actually setting you up to find a job QUICKER and with LESS HEADACHE for both sides.
So there you have it!
At least NOW YOU KNOW why there is a fee to sign up on HireMyMom!
Hopefully we'll see you on the other side and be congratulating you in the coming weeks on your new job or clients!
Want to see some of the NEWEST JOB POSTS?
Ready to SIGN UP?