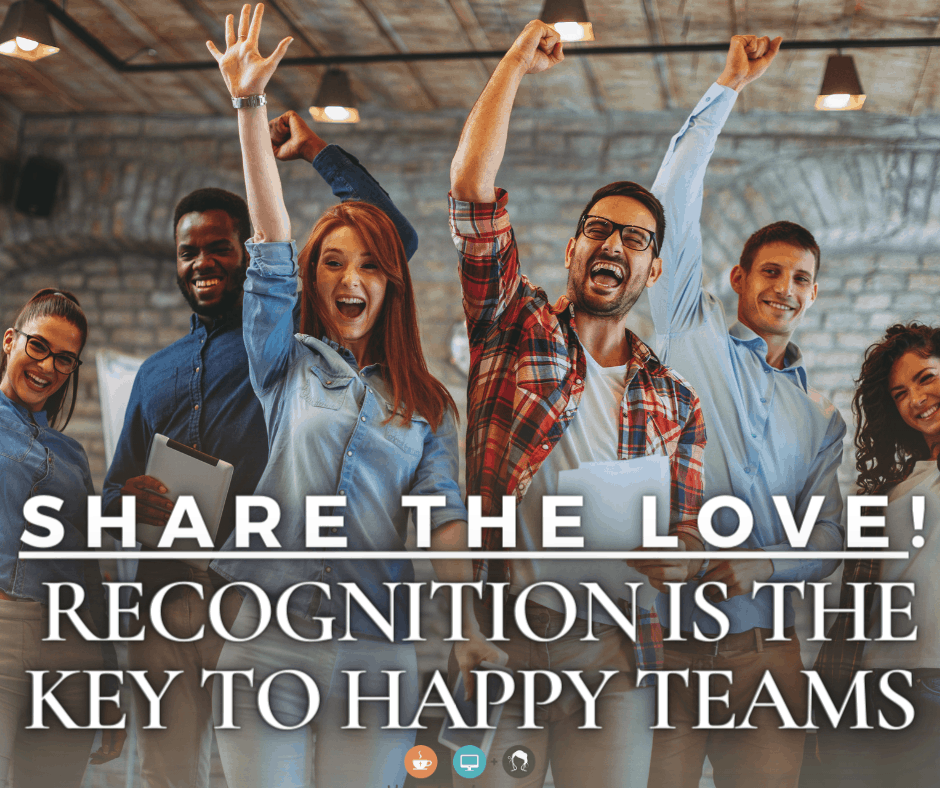 Share the Love! Recognition is the Key to Happy Teams
People are like flowers. They bloom when they get attention. In the workplace, recognition often serves as the sun that helps feed your team and encourages them to keep up the excellent work. But, when you manage a team of remote workers, the traditional ways of thanking your team and showing appreciation may be more difficult. Team lunches, impromptu donut days, or stops at the coffee shop for a quick "well done" cup of joe are tougher to pull off when your team is scattered all over the country. 
So, what to do instead? Here are our tips for making appreciation part of your business's culture and a list of suggestions to help you find the right tokens of your appreciation to share with your team.
Learn the Love Language of Your Employees
The first step is to do a little homework and find out what types of appreciation your employees find meaningful and what things don't resonate–or worse, backfire. For example, some people love to hear their praises sung publicly. But, one person's moment of glory can be a cringe-inducing experience for someone else. 
To find your team's temperature, start by asking team members how they feel about recognition options as part of a regular conversation. Asking these questions may feel a little strange at first, but can be quite natural with practice. As you have meetings with each team member, casually ask about specific recognition preferences and file each person's thoughts away for use later. 
Ask about specific options. For example, a team shout out, an afternoon off with pay, a spa gift card, a new chair–throw in whatever you are considering as part of your recognition plans to get a good sense. Also, ask each employee for ideas.
If that feels uncomfortable, another option is to send out a team survey asking each person to rank specific recognition options in terms of preference to get a pulse of what your team members genuinely appreciate. Include a write-in box so team members can contribute ideas, too. (If you take this route, consider sharing the survey results with your team so that everyone knows what matters to each other and recognition can become a team sport.)
As you are in the information-gathering stage, observe the way your employees recognize others. Do they start calls with a round of thank you's? Are you often copied on notes where one team member praises another? These are clues about your current recognition culture. You may find that you want to build on it or head in another direction.
Finally, consider what makes the most sense for you. 
What's your comfort level with recognition? Does it come naturally, or is it a muscle you need to build? 

What does your budget allow? If you don't have a specific recognition budget, don't worry. There are several ways to acknowledge good work and effort without spending money, and they are all appreciated. (See our ideas for recognizing your team below.)
Answering these questions will help you frame your thinking around recognition options for your team. Make a list of the ways you want to acknowledge others. 
Make Recognition a Practice
Now that you've done the research to determine what matters to you and your team and considered how you'd like to see a recognition culture grow for your business, it's time to make a plan. Pick a few ideas from the list below and commit to sharing recognition at specific intervals. The right amount of recognition will vary based on your personality and team size. Find the right cadence and add the practice to your calendar. Don't worry if it feels forced at first. It will get easier.
Ideas for Recognizing Your Team
First, let's look at low and no-cost recognition ideas:
Say thank you often. It seems simple, but it's easy to forget when you are in close contact with someone, and it goes a long way. Hand-written thank you cards, greeting cards, and emails are all effective. 

Start or end each team call with shout outs for good work.

Schedule quick one-on-one meetings with team members to share positive, encouraging feedback. When on these calls, make a point of not sharing constructive feedback or talking shop. Keep it to a few minutes of personal chit chat and a big helping of thanks.

Host a virtual award ceremony to recognize a great quarter or completion of a big project. Ask team members to present tributes to each other or serve as the MC who praises each person.

Praise your team via social media. You can use your business accounts, so all your customers see it, or you can add an endorsement of a person on LinkedIn.
If you have a small budget, want to recognize a significant contribution, or celebrate a milestone, here are some ideas to get the most bang for your buck.
Embrace the value of the surprise gift.

Send flowers for a job well done.

Treat the employee (or team) to lunch with a gift card to a local restaurant.

Personalize it! Order a personalized commemorative object, such as a nice pen, a plaque, or coffee mug, as a thank you for work on a specific project. 

Consider workplace perks as a thank you.

Offer increased flexibility.

Give the employee an unexpected afternoon off with pay.
If you have a bigger budget or just feel more comfortable using cash or gifts as a thank you, there are many options available.
A cash bonus is always welcome. Services like Zelle or PayPal can instantly deliver a cash boost as a thank you. Even a relatively modest amount of cash is welcome. Everyone enjoys finding an unexpected $25 deposit in their account.

Gift cards for travel are fun ways to say thank you. With a gift card, the size is not that important–it truly is the thought that matters. (Bonus idea: With travel difficult due to COVID-19, many people dream of their next vacation. Enlist a strategy of sharing travel-related gift cards as thank-you's over the next few months to help your team see clear to a time when vacations and travel will once again be part of life. When they finally take the vacation, they'll remember how you helped to make it possible.)  

If your team is home-based and you want to go big, consider using home office equipment as a thank you. Options include standing desks, comfortable chairs, or other office pieces that can make your team member more comfortable and productive each day.
What Do You Do?
Recognizing your team members goes a long way toward building an effective team and keeping people engaged. I'd love to hear more about how you acknowledge your team and the results you've seen.