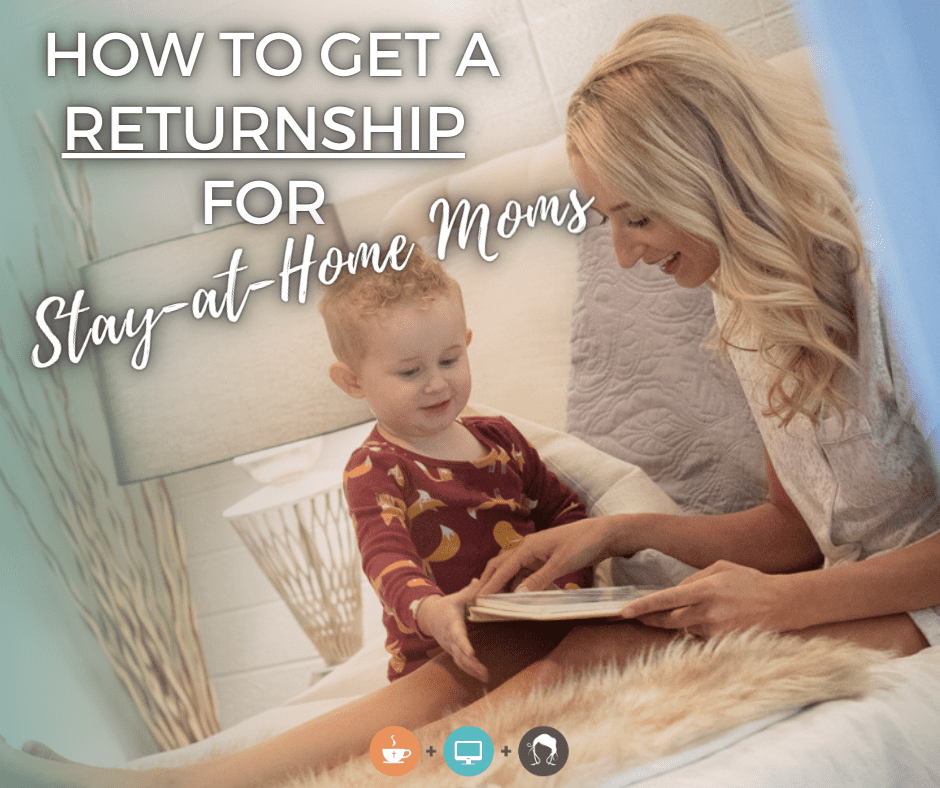 How to Get a Returnship For Stay-at-Home Moms
By Christopher Manske
Many stay-at-home moms are unaware of the corporate resources that can help them return to the workplace.  Programs like this are called returnships because they are similar to an internship, but not for college students.   How do returnships work and what should mothers expect from companies offering them?  Are they beneficial and how can you find one?  For these answers and more, read on!
What is a returnship?  In its simplest form, returnships are training programs offering stay-at-home moms (or any professional returning from sabbatical) a straight-forward path for getting comfortable again with the pace and expectations of their new job.  The best returnships allow returning professionals to speed up or slow down as they accomplish specific goals on their way to a well-defined completion point.  Even if the word returnship isn't in the title, like the Path Forward Return to Work program at Amazon, the offering focuses on attracting women who temporarily left the professional world to concentrate on family.
What should I expect from a returnship and the companies offering them? These programs are not simple to execute because they require the firm's time and attention.  Therefore, it's reasonable to expect companies offering returnships emphasize taking care of their workforce.  It also suggests the work is teachable and the firm desires teammates with certain characteristics more than they need highly specific skills.  Returnships are common in finance, but regardless of the industry, here's what to expect from any solid returnship program:
A meaningful wage.  This isnot an internship in the old sense of the word.  Companies expect to pay you for your valuable education and useful experience.  Sometimes that's an hourly wage until the program is done and you've "graduated" to the full-time, salaried position you seek.  Other times, you'll receive a salary right away and, upon completion, a bump in pay or a bonus.
A clear progression toward an agreed-upon completion.  This isn't busy work or fetching coffee.  Returning professionals receive a well-defined goal list which progressively gets more challenging so that, at the end of the program, both the company and the new teammate are confident about their success going forward.
Flexibility.  Companies understand you've been at home tending to every last-minute emergency and unexpected family difficulty.  It takes time and discipline to separate from that and the returnship allows for the occasional distraction as you transition to your new role.  Remember how it took some adjustment to get comfortable staying at home?  It's normal for that to happen again going back to work and excellent returnships help make the transition easier.
Mentorship. A leader within the firm formally guides you and answers questions.  This person wants you to succeed and can easily answer most of your questions.  Companies taking this seriously will repeatedly dedicate specific time for you to sit down one-on-one with this leader/mentor.
What are the benefits of a returnship and how can I find one?  These programs have a lot of benefits for both the returning professional and the companies offering them.  Different organizations will have a variety of reasons why they find a returnship beneficial. Managing one of Houston's largest investment firms, Lien Busby of Manske Wealth Management says, "We offer a returnship because we don't want to have the typical dog-eat-dog, Wall Street culture.  If we hire within the industry, those candidates typically bring habits with them that won't fit in with our team."  She goes on to say, "We are glad to teach all the skills needed to be a successful Financial Advisor on our team.  But we're not going to bring on someone who doesn't share our values.  We're convinced that a sharp, well-educated woman who left behind a paycheck for a few years to accomplish her personal goals will fit right in with our team because the best investment professionals put people first."
Here are a few returnship benefits for stay-at-home moms looking to go back to work:
Training.  It takes some effort to get into the new routine and training on your new job's requirements makes that a lot easier.  It's not reasonable for a company to expect you to know everything the first day, and returnships provide the buffer required to close that training gap.
Stability.  Companies that invest in you with a returnship are interested in keeping you onboard for the long haul.  Hard-working, coachable moms can expect a lot more long-term stability at companies offering these programs.
Financial security.  When you have a clear path to future promotions, it's a lot easier to see that next pay raise and ultimately seize it.  Money isn't everything, but your time and expertise deserve compensation and programs like this make sure you understand how your efforts will lead to a raise in pay.
In the end, finding these programs is as easy as a Google search.  All the major job search sites will be able to find the key word, "returnship."  Whenever you are talking about your future job, explain that you expect to enter a program specifically tailored to provide a comfortable transition back to the workplace.  Corporate America has a lot to offer a stay-at-home mom returning to work, so take advantage of it!
A graduate of the United States Military Academy, Christopher Manske has been praised, published, or quoted in The Wall Street Journal, Reader's Digest, U.S. News & World Report, Forbes, and many more.  His thoughts can be seen online at Yahoo! Finance, ThinkAdvisor, MSN.com, CEO World, and others.  Manske and his team have also worked directly with leaders at IBM, GE, Microsoft, Exxon, Accenture, Boeing, to name a view.  His book, The Prepared Investor: How To Prevent The Next Crisis From Affecting Your Financial Independence has been compared to Malcolm Gladwell's Outliers and challenges Wall Street's typical approach to investing during crisis.  For more information, visit www.manskewealth.com.