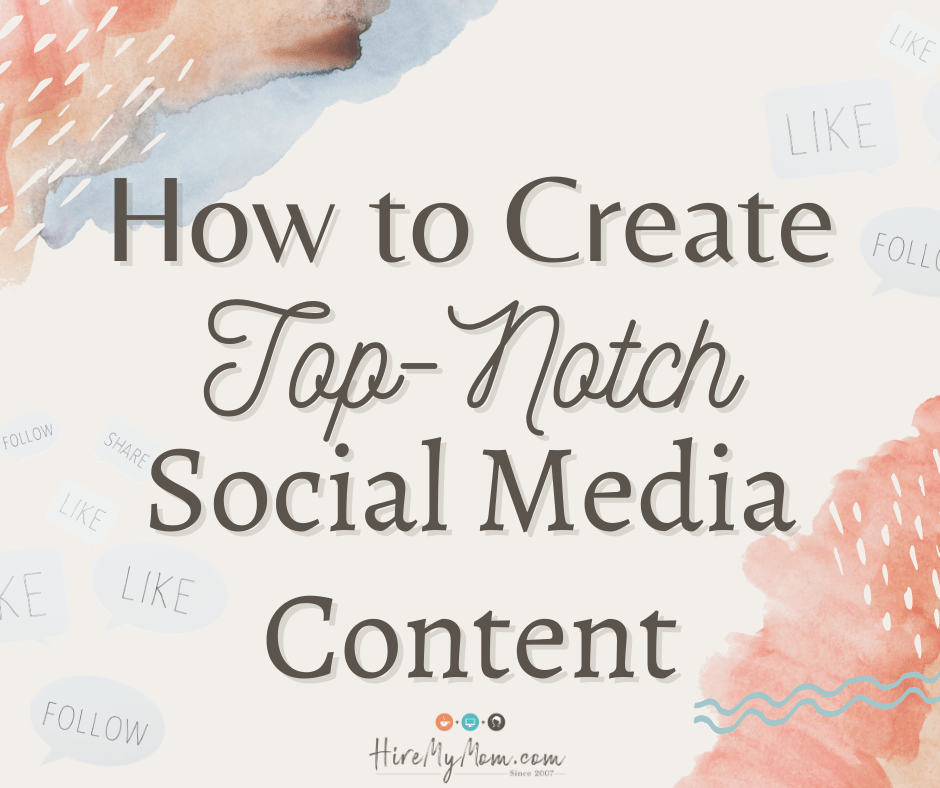 How to Create Top Notch Social Media Content
Social media is everywhere and if you aren't already using it to promote your business, you are likely considering it. But, good quality social media takes more than a few Facebook posts. If you're thinking about dipping your toe into the water (or if you are already fully swimming), these tips can help you make the most of your social media presence.
Find Your Why
The first rule of social media is that you should treat it like all other content. It should be:
Authentic to your brand.

Relevant to your mission and goals.

Strategically focused on helping you meet your goals.
The best way to make sure your social media meets this criteria is to identify what you want readers to know, feel, and do after engaging with your content. Asking this question at the beginning of your journey can help direct you, as you map out your social media strategy and start posting.
The best way to do this is to think about what you're trying to achieve. For example, do you want your social media accounts to:
Create awareness of your business?

Build your brand?

Increase sales leads?

Lead to more engaged customers?

Serve as a supplement to your website? Replace your website?
Identify Your Base Level of Engagement
Knowing your social media starting place makes it easier to track success. Here's a quick and easy way to assess engagement:
Take an inventory of all your social media accounts.

Identify your number of followers for each platform. Keep a tally by platform. (For example, 80 Facebook followers, 91 Instagram followers.)

Review all your posts on each platform in the last 45 days.

Look at each post and count reactions from followers. If a post has 47 likes and three comments, count that as 50 reactions.  

Calculate an average engagement score over all of your content for each platform.
Based on your number of followers and overall engagement score, you now have a quantifiable social media baseline. 
Set Goals
With a good sense of your current engagement level in hand, it's easier to define what success means to you and identify the time period in which you hope to grow. Here are some sample goals:
Attract 50 new Facebook followers by January 15, 2021.

Grow engagement by 20 percent by March 1, 2021.
It takes time and commitment to nurture a social media presence. Set a realistic time frame to achieve your goals.
Also, this is a good time to check in with your own gut and consider how engaged you want to be in the process. Hire a social media manager if you desire a level of engagement beyond your time availability. HireMyMom is a great resource for finding someone to help with this.
Find Your People
Like all communication, understanding your audience is key. Think about what interests them, what drives them, and what moves them to act/buy. You may find it helpful to create an avatar of your typical customer/follower and use that person to guide your work. Determine if you want to spend some advertising or promotion dollars to help find your followers. A social media consultant can help with this.
Find Your Platforms
Next, determine the platforms most relevant to your audience. Check your competitors to see which platforms they are using. Look at influencers in your industry to see what they are posting and where. Observe how your competitors and influencers engage with their audience. Note what hashtags are trending. A few hours with a social media consultant can make this process easier. 
 A few tips:
Develop a strategy for each platform. What works for Facebook is different from what works on LinkedIn.

Get the right tools for each platform. For example, high quality photos make a big difference on certain platforms. Professional quality videos are key on others.
Find Your Voice
It's time to start posting! Find the best way to enter the conversation and start executing on your strategy. Here are a few final tips:
Create a monthly or quarterly editorial plan for each platform to help you stay organized and manage your online presence more easily. Monitor trends so you can add or remove content, as needed.

Develop a blog to help you tell your story authentically. This is another area where a freelancer can make life easier for you.

Be prepared to engage with your audience. Successful social media is about conversations and your audience expects connection through engagement and comments. Identify a staff member to take point on responses or hire a virtual specialist to help. 
Share Your Story With Us
Social media is a great way to grow your presence and your brand online. We'd love to hear about your experiences. Join the HireMyMom Facebook community or send a note sharing what's worked for you.