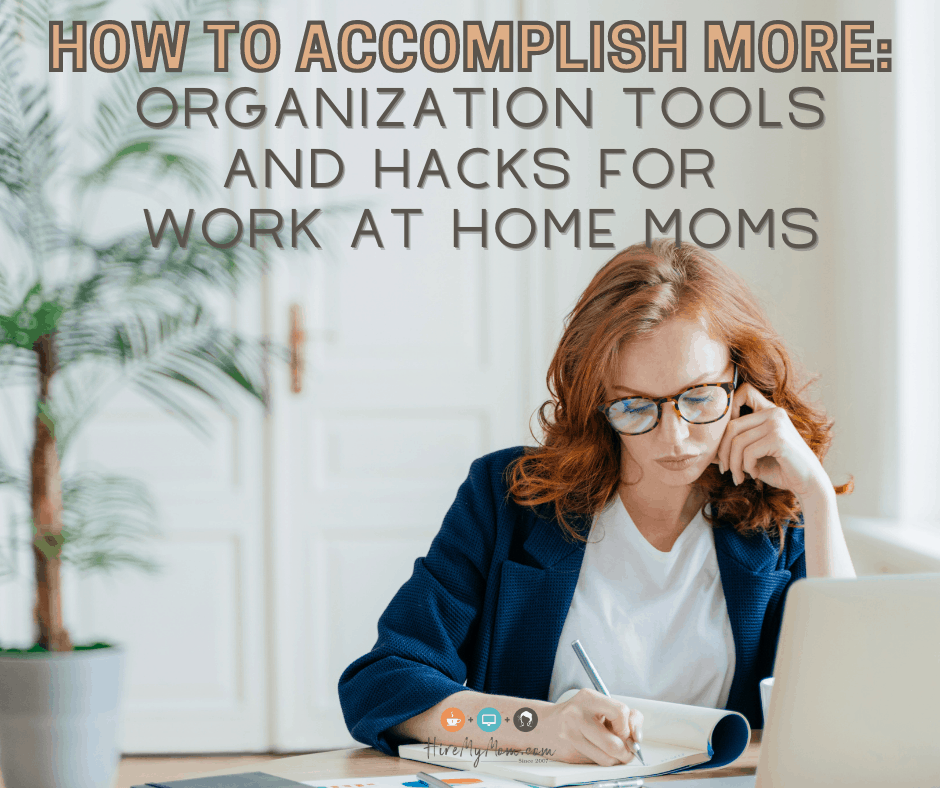 How to Accomplish More: Organization Tools and Hacks for Work from Home Moms
There is no one trick pony to being a mom, because let's be honest with ourselves—motherhood is no perfect equation. Over the history of time and the long evolving course of motherhood however, some ancestral knowledge has been passed down from generation to generation. These "wives tales", in combination with modern technology capabilities, can be used by modern moms to take on the day, and slay any dragons that might come their way. Here are some of the top insider tips we have allocated that can serve as mother's little helpers.
Top All Around Tips and Tricks
All help is good help, and these tricks are passed down to help cut down time wasted so that you are efficient throughout the day, or god willing—maybe even able to have a moment to yourself.
Meal prep: Defrost meat in the fridge, cut up veggies, shred cheese, and do all the preparation needed for your family meal the night before or in the morning. That way when you get up in the morning you can easily assemble everything into a pan to throw back into the fridge or a crock pot— and then dinner is served whenever you are ready.
Make a to-do list: Create a to-do list the night before so you know what you need to tackle the next day and can hit the ground running when you wake up. Having a written record can help to remind you when you get distracted, something that happens easily with children around. With the ability to keep on task your day will be more efficient, and what is more—a study by professors Baumeister and Masicampo from Wake Forest University showed that, while tasks we haven't done distract us, just making a plan to get them done can free us from this anxiety. Less anxiety is always a good thing as a mother.
Set healthy boundaries: Say yes to the things you can do, but remember to allow yourself to say no or not now to the things you really can't take on. Don't spread yourself too thinly to the point where you don't have time for yourself or your family. Because "mom" is often synonymous with the word "superhero", a mother has a tendency to try and take it all on. Remember that the best version of yourself is the best for your family, so take the time you need to when necessary.
Create a family organization hub: This can be shared notes on your phone for frequently needed items, or if your kids are younger, this can be a white board or note pad. The lists can include functional things such as shopping lists, or even be a space to share creative thoughts. Centralizing this in a place that is a common traffic area, such as the kitchen or the mud room, makes it available to everyone to have access to it. You can also couple this with a digital calendar that allows you to invite family members to the clan's various extracurricular events. This allows for every member of the family to post their events and highlight the ones that are special to them. It also helps to put appointments on the calendar, with reminders, so no one forgets important dates. 
Modern Day Motherly Applications
If  as a mother you find yourself asking: "Is there an app for that?"—then the answer is yes. Here are some of the more useful apps we have found for moms that need a little technological assistance. 
Delegating duties: TaskRabbit is an online marketplace that will connect you to helpers that can do everyday tasks. Their helpers can assist you with moving tasks, handyman help around the house, gardening, or any other errands or responsibilities you might need assistance with.
Planning proficiency: Cozi is an organizer designed for families, and a game changer when it comes to being a mom with a plan. It can help coordinate schedules, grocery lists, activities, to do lists, and facilitate communication for the entire family. Cozi is one of the best calendar apps for moms because they have truly thought of everything that goes into a mother's day.
Mom matchmaker:  Peanut is the ultimate app for moms to meet moms. It connects mothers in your geographic area with similar interests. Referred to as "Tinder for Moms", Peanut can help you meet other moms similar to you or maybe even needing help with some similar challenges you are facing.
Splendid savings: Ibotta is a cashback app that helps you save money on groceries, beer, wine, pharmacy, clothing, beauty & wellness products, restaurants, home & electronics items, and travel. You simply scan your receipts and earn cash back. What a beautiful world we live in when we can get cash back on wine. 
No one ever said that motherhood was easy, but it has always been a worthwhile endeavor. Balancing the many roles, tasks, and extraneous superhero responsibilities is no small feat either, so as they say "work smarter, not harder". Whether you're a new mother, a seasoned one, a single one, or an expecting one—we hope these tips will help you in your honorable maternal journey. 
Being Mom, Hacks, Organization, Productivity & Time Management, Work Life Balance