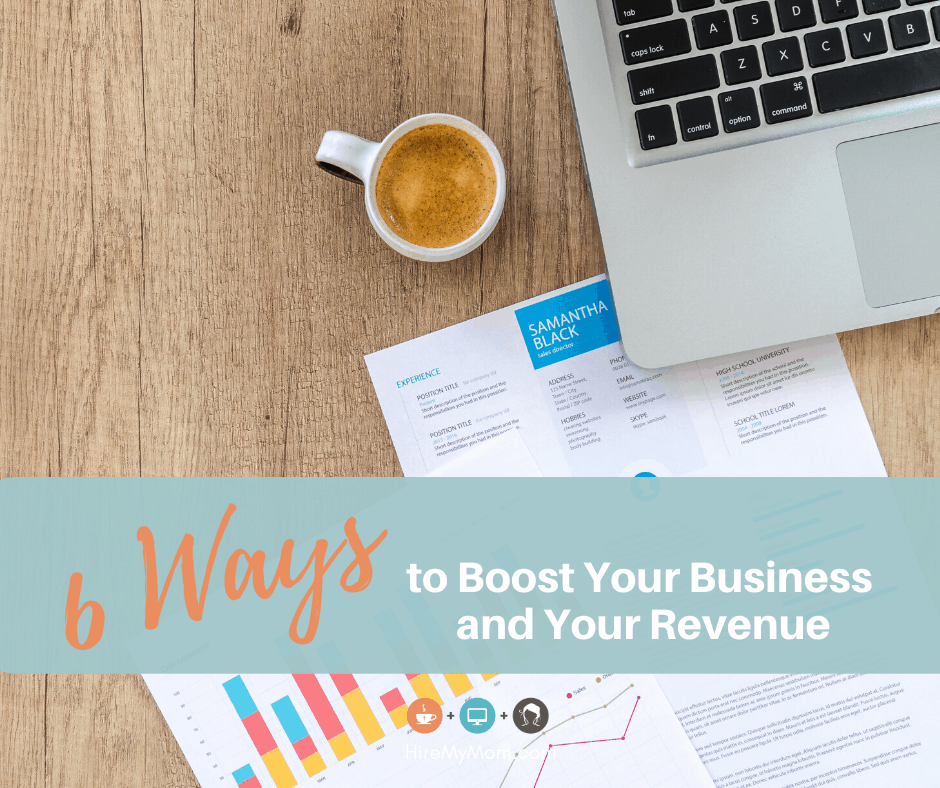 6 Ways to Boost Your Business and Your Revenue
As a small business owner, one thing we all have in common is looking for ways to grow our businesses. At some point, your growth may stall, and you may be looking for creative ways to boost your business to the next level. Well if that's you, we've got 6 great tips to get you going!
Use Email to Stay Connected
Staying in contact with your current customers and prospects is one of the most effective ways to grow your business. If you don't already have an email list, you need to start one asap. You can put a subscribe box on your website but even better if you can offer a free report, article, discount or some other "bait" to lure them to join your email list. This email list can become your sales funnel to turn prospects into customers as well as keep in regular contact with your customer base.
Expand Your Offerings
Take a look at your current business and the products or services you are currently offering. Now think about what complimentary products or services you could offer? Is there an add-on product or service you could add even if it means outsourcing that task? If you are a coach, are there resources you could offer such as books, workbooks, reports, etc as add-ons? If you own an online store, are their add-on products you could offer in the shopping cart to encourage sales of another products? Bottom line is to look for additional ways you can increase your offerings and therefore your revenue.
Do What You Do Best
As a small business owner, you have a gift or set of skills that are the basis of your business. You also have many other hats that you most likely wear throughout the day. Take some time to write down all of the daily, weekly or monthly tasks you have. Now which of those are taking up too much of your creative or revenue-generating time? Which of those tasks do you dread? Those are the tasks you should be hiring out for! Whether it be a virtual assistant, bookkeeper, email marketing, customer service or some other task. Take time to see where you can streamline your business.
Offer Exceptional Customer Service
If you live in an area where there's a Chick-Fil-A then you know customer service is a top priority for them. From start to finish, they strive to do everything top notch and to let you know they want to serve you well. It should be the same with your customer service. Try to respond to customer's needs quickly and to offer to make things right even if it's not your fault. You'll find when you go the extra mile, many of those customers rave about your business and tell others about it.
Take Care of your Current Customers
Have a weekly or monthly e-newsletter and a Facebook group to share relevant news and articles, your company blog posts, upcoming events or specials you'll be offering. Make them feel special by giving them the insider's view of your business and what new offerings are in the works.
Make Social Media Work for You
Used wisely, social media can set the tone for your business and your brand. You can use it to show your personality and to engage with customers and prospects. You can also host monthly giveaways to encourage engagement and attract new followers to your pages. This is an easy task to outsource when you find the right candidate who can portray the style and messages you want for your company.
For all of these tasks, you will find HireMyMom has great candidates to help you whether it's to help with social media, handle your customer service, manage your email marketing, create an e-newsletter for you or take over your bookkeeping. You don't have enough time in the day or perhaps all of the skills needed to do every job well, so outsource to a freelancer or hire a remote employee to help your business grow and thrive!
If you don't have time or energy to find that perfect candidate? Consider HireMyMom's VIP Concierge program to write job post, post job, review applicants, interview candidates, and make recommendations for the top 1 or 2 candidates. Contact us for details.