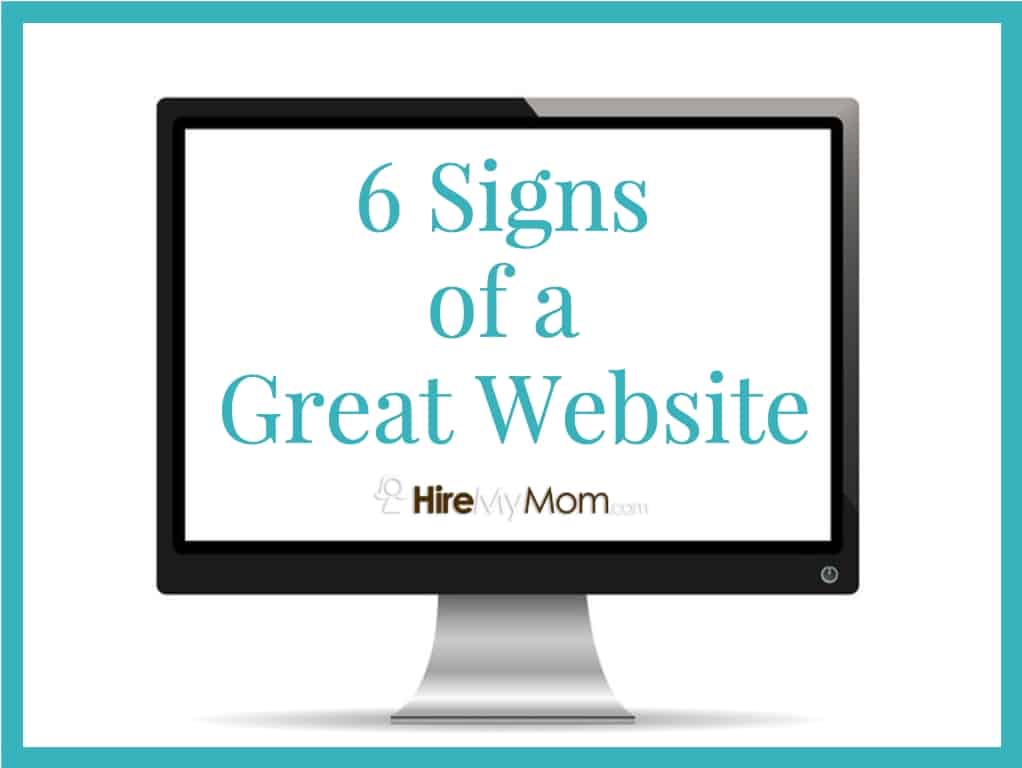 6 Signs of a Great Website
In this day and age, everyone has an online presence.  Especially if you have a business, you know the importance of a quality website.  It's a known fact that every business has (or should have) a website, but do you know what makes one better than another?
Although you can spend a lot of time and money on specific designs and fancy templates, it's really crucial that you have the basics down first.  Read along for some best tips and advice to ensure your website is helping your business.
Make Your Contact Clear
Is it easy to contact you on your website?  You should feature a phone number and/or email address at the top of your page.  A "Contact Us" button is great, but people often want something even more accessible.
Ensure that this information is prominently displayed, easy to read, and accurate.  Think of it this way: if someone was ready to buy or order something from you, you would want to make it very easy for them to contact to order from you or hire you.
Professional Photos
Quality, professional photos are truly key to a solid website.  Especially when it comes to photos of you and/or your team, it's important to make the investment in good headshots.
Additionally, utilizing professional photos gives readers and potential customers a glimpse at you.  Not only does this humanize your brand, but it allows for a brief connection before any business is done.
Let Them Get to Know You
Just as a professional photo allows us to connect visually, information and content allows this as well.  If you feel up to it, include some personal or fun information on your site.  If nothing else, share some of your story about why you are where you are, as well as the "why" of your business.
This really helps people connect beyond simply purchasing or hiring you, and these days, people want to do business with people they like and trust.  When someone feels like they know you, or can relate or appreciate something personal you said, they're more likely to give you a call.
Include Calls to Action
It's great to have a nice site, but if you're not prompting visitors to do anything, you're losing any chance to gain their contact information or work with them further.
Can you offer a free download or free one-on-one session for email addresses?  Create a sidebar prompt for this and collect those email addresses.  You could also have an information-gathering form, which typically works best for service-based businesses.  Since the person visiting your site is already likely interested in hiring you, obtaining more information about them and/or their need makes it all the easier to hire you.
Consider the Design
Beautiful design is very important.  Old, outdated websites aren't pleasing to the eye, and it may show that you're a bit out of touch.  We buy with our eyes, and if we don't like what we see, it's very easy to discard products and services as well.  Web design can be quite an investment, but there are plenty of do-it-yourself sites, or sites that offer design at a discount rate.
Although it's tempting to try to do-it-yourself, it may create more headaches if it's not your expertise.  It's better to go into a web design meeting with an idea of what you want, then shop around a bit for designers who can bring it to life within your budget.
Nothing is more frustrating than a website that's tough to navigate! This includes broken links, incomplete sentences, sites that won't load, and so on.  Make sure that each move is intuitive, and that someone without any knowledge of your business can understand it.
Make it Mobile
Everyone is checking websites on their phones these days! If your site isn't mobile-ready, it becomes a very frustrating experience for readers and potential customers.
There are sites out there that offer to make your website mobile, but more often than not, most templates are mobile-friendly.  This is absolutely something crucial to ask your web designer, as well as ensuring that every important feature functions well on a phone.
It's not enough to look good on a phone – it must also function perfectly!
These are just a few basic steps to ensure that your website is beautiful and not frustrating to your visitors.  Take the time to get these things down, and then introduce more fun, fancy features that may bring that something extra to your website!
home business, Marketing, Small Business, Work from Home Success, Work from Home Tips