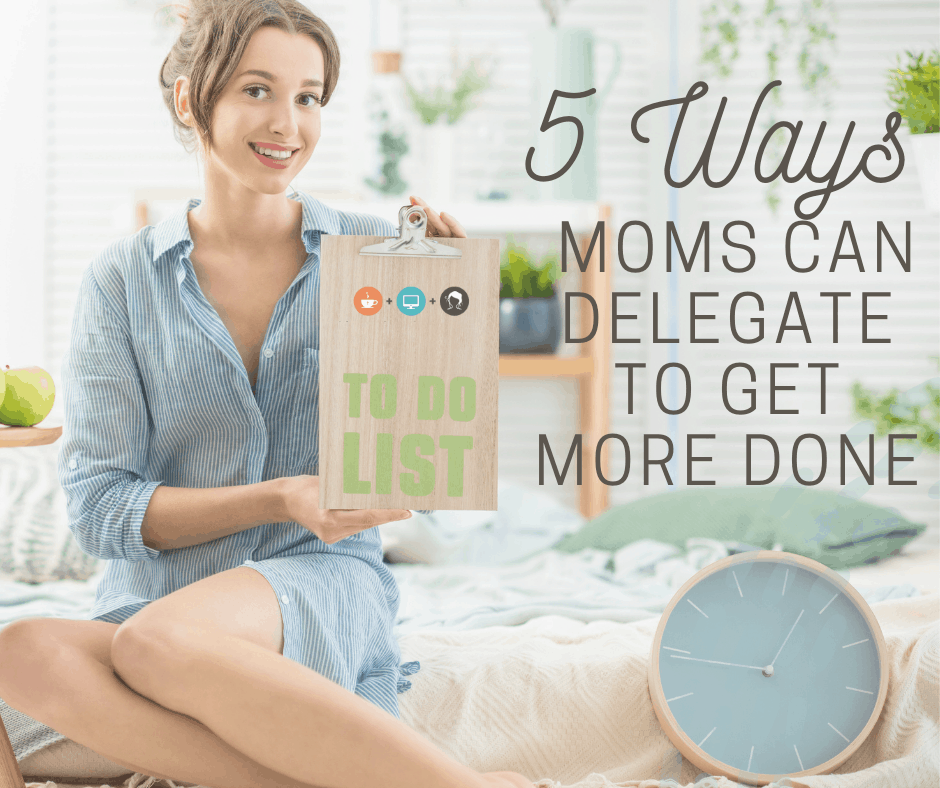 5 Ways Moms Can Delegate to Get More Done
Guest post by: Michelle Laurey
Work-at-home moms often face the unique challenge of balancing work needs with household management. Childcare, meal preparation, and household chores can eat into your work time if you are not careful.
If you postpone chores to finally get some work done, then the house is in disarray.
It doesn't have to be like this!
Next time you're struggling to balance your work and home life, try these five tips to delegate your workload.
1. Split Up the Chores
Your spouse and older children can each take on their own responsibilities around the house.
Delegating the household workload helps you focus more time and energy on your business.
Use the following tips to successfully delegate chores:
Assign one task to one person. Whether it's loading the dishwasher, putting away laundry, or writing out a shopping list, designate a single person to be in charge. Sharing tasks can cause confusion about who is doing what and when.
Set goals and deadlines. Assign different tasks to different days of the week so everyone knows when they need to finish their chores. Plan errands and shopping around your schedule, and choose times when fewer people are out.
Soon your family will adjust to your routine and won't have to keep asking when you're picking up groceries or mailing that package.
Go through the task list with each person. Sometimes a spouse or child doesn't know how you want a chore accomplished. Maybe they are unfamiliar with the right settings for the washing machine or where pots and pans are stored.
Walk them through the task so they can learn to do it without you around.
Put it in writing. Whether you use a smartphone app or a piece of paper on the refrigerator, keep a list of what needs to get done and whose job it is. Having a visual plan helps everyone stay on track.
Delegating chores will also reduce the stress that often affects your productivity.
2. Arrange for Childcare
First-time work-from-home parents often assume they can care for their young children while working. Unfortunately, they quickly found out that is not the case!
Childcare is a full-time job all on its own.
If you can't afford a babysitter or daycare, consider asking a retired family member if they can watch your children a few days a week.
If no family members are available, reach out to other work-from-home moms in your neighborhood. You may be able to take turns watching each other's children on days you're not working.
Alternatively, you can hire a young adult in your neighborhood to watch your children while you work from home.
You can typically pay a cheaper rate, and you're available in case of emergencies while still being able to shut the door to your home office while you work.
3. Consider Extended Family and Friends
Your immediate family members aren't the only ones who can help you out.
When someone offers to lend a hand, take them up on their offer!
Some easy tasks you can delegate to others outside your house include:
Driving children to and from school. Coordinate with other moms in the neighborhood to take turns dropping off and picking up children from school. This provides extra time in the mornings and afternoons for you to work.
Helping with housework. If you have a close friend nearby, ask if they want to arrange dates to help each other with cleaning. One weekend you help clean their house and the next they help with yours.
This is a great way single parents can stay on top of the household workload without being overwhelmed.
Assisting with meal prep. Consider arranging weekly meetups with friends or other moms in your neighborhood to prep meals for the upcoming week. You can buy in bulk to save money and split the costs among the group.
In return, you can step in to help when they are feeling overwhelmed.
4. Simplify Scheduling and Organization
The best way to ensure everyone completes their tasks is to organize and schedule everything.
There are numerous apps that can help you make lists and remind family members of their chores.
By taking advantage of these, your family can add items to the shopping list, create reminders on the family calendar for upcoming appointments, and check off tasks they've completed.
This helps everyone stay on track without you needing to lift a finger.
There's a number of apps available to help create family lists and chore charts to digitally divide up the workload and set important reminders.
5. Don't Be Afraid to Hire a Professional
If the workload is too much and you don't have enough people to help out, consider hiring a professional.
Many services offer cheap task-based help, such as mowing the lawn, cleaning the house, and doing other odd jobs.
Several grocery stores offer pickup and delivery options to save time without spending a lot of money.
You can also purchase box meal kits with pre-measured ingredients ready to throw together quickly for a healthy dinner.
Meal delivery is another way you can get a quick lunch or dinner on the table without leaving the house.
Final Thoughts
Whether you need help with meal planning or could use an extra hand on the laundry, work-at-home moms have plenty of options.
You can outsource your chores to professionals or delegate responsibilities to other family members.
Mobile apps make it easy to create everything from chore charts to grocery lists so each person can do their part around the house.
Once your household is running smoothly, your business will too.  If you need to delegate some of your work, consider posting your job on HireMyMom where virtual professionals in a variety of fields are ready to take on new jobs and projects! Or if you need more work, we can help with that too!
–
Michelle Laurey is a telecommuting wordsmith who especially enjoys writing on a cloudy day at Assignyourwriter UK. Always interested in ways that can help individuals reach their full potential in life, she enjoys producing stories on entrepreneurship, productivity, lifestyle, and health. Outside her keyboard, she enjoys visiting cozy coffee shops and taking long urban strolls with her partner. Reach out to her on Twitter.
–
Being Mom, Hacks, Productivity & Time Management, Work from Home Success, Work Life Balance