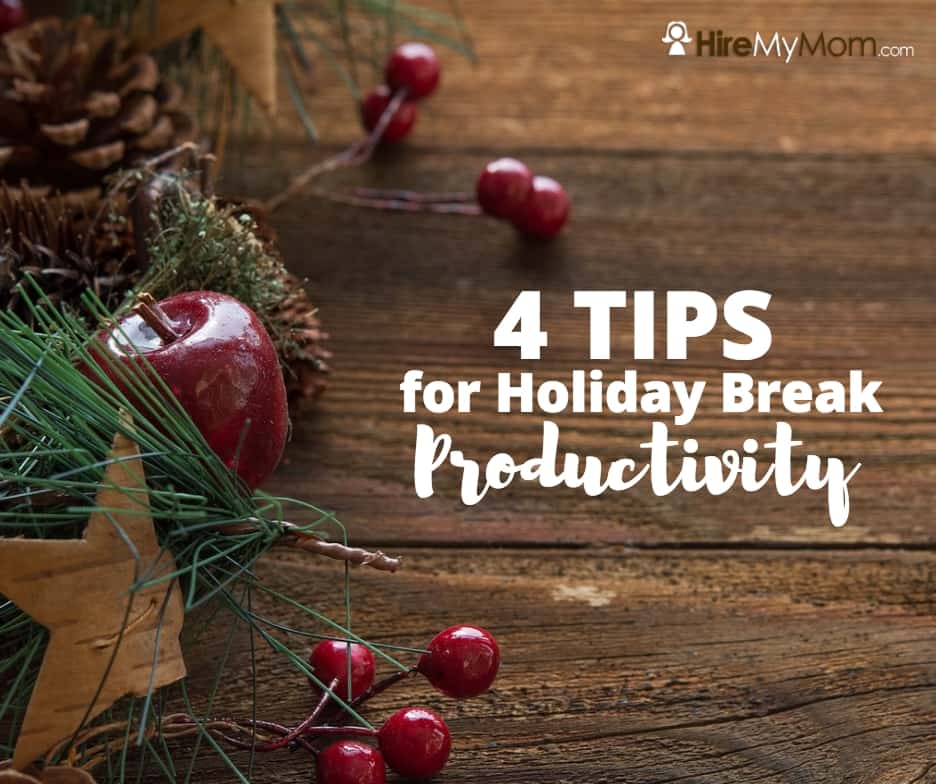 4 Tips for Holiday Break Productivity
Today begins holiday break for a lot of families, and it's important to take the time to refresh and rejuvenate before the start of the new year.
Although most of your household will likely be home from school and work, a home based worker is never truly "away" from work.  It's very important to take time for yourself this time of year while still completing your work.  Read along for some best practices in keeping up with productivity while enjoying the season.
Create schedules and lists
At this time of year, many of us are juggling numerous events and schedules! It can help to create short lists and schedules for work, Christmas, New Year's, and anything else that's taking place during this busy holiday season.
Before you go on break, take a few minutes to figure out what needs to be done and when.  There's still time to lay everything out and prioritize based on available days.
Use spare time
When there are activities taking place that don't involve the whole family, take this time to stay back.  Of course you don't want to miss anything truly special or important, but simple errands can be skipped if there's another family member who can handle them.
You can also utilize early bedtimes and nap time to get ahead with work.  Although everyone is typically home for the holidays, there can still be time when your kids are with friends or spending time with other family members.
Work ahead
As with all productivity tips, working ahead is a great way to stay on top of things.  Most of us will still have to put in some working hours over the next couple weeks, but if you work from home, you can likely work when you have the time.
Even though home based work never really goes away, we have the benefit of being able to work at any time.  Utilize this to your advantage! Spend a few nights or early mornings before holidays working ahead a bit.  This not only ensures that you're completing the work that needs done – it allows you to come into the new year without a mad rush of work.
Enjoy the season
Work will still be there after holiday break! We all have work, family, and home obligations, but this is truly the time of year to enjoy your family.  Yes, work is still important and must be completed, but find a way to work it into your holiday schedule without missing those truly magical moments with your friends and family.
Take this time to relax, refresh, work as needed, and come into the new year with a clear head and sense of calm.
Being Mom, Home Office, Productivity & Time Management, Work from Home Tips