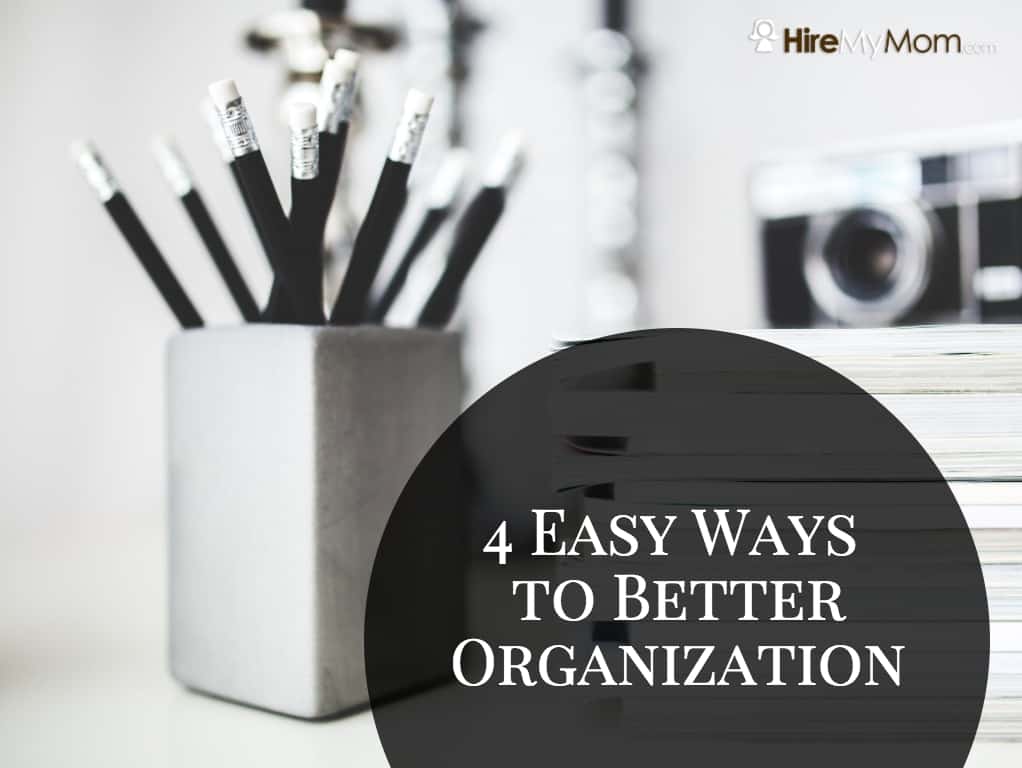 4 Easy Ways to Better Organization
Organization is one of those small things that make a big difference.  Cluttered, disorganized spaces make us less productive, and it can be stressful to constantly feel like you're playing catch up.
A well-executed organization plan is a key to success in business and at home, and it's worth the effort to get things to a manageable place.  Read along for some of our best, easiest ways to stay organized.
Clear your space
Start by clearing out! If you're naturally a disorganized person, the idea of organization can be slightly overwhelming.  Simply start by clearing the clutter and items you don't like. You can also work to remove unsightly items, such as cords and other things that can be moved out of the way.
According to NAPO and BecomingMinimalist.com, 91% of people said they would be more effective and efficient if their workspace was better organized.
So not only is this task made to make your life easier; it can improve your work!
Make it a habit
Don't let it build up! Whether it's papers, digital files, your desktop, your kitchen island, or anything else that's prone to clutter, be proactive about keeping it in shape.  This isn't to say that it has to be 100% clear all the time, but make it a habit. Take a few minutes each day to organize each space so that the next day doesn't feel overwhelming.
Create a system
Once your general clutter is clear, you can start to systemize your organization habits.  This can even be fun! There are plenty of fun storage and organization products at stores like The Container Store, Home Goods, Target, and so on.  You can pick out the items that will look best and serve you best, while making it your own.
Not everyone organizes the same way either! This is another place where you can pick your own style.  Do you prefer digital? There are tons of apps and pieces of equipment that allow you to scan all receipts, documents, and so on, and from there, you can organize them by file. If you prefer paper organization, choose a filing schedule and method that keeps things clear in your mind.
It's important to keep to your organization schedule as well! Maybe take 60 minutes every Friday morning, or 10 minutes per day, if that's more your style.  Maybe Monday is 20 minutes of digital file organization, Tuesday is 20 minutes at home, and Wednesday is all of your digital clutter. Make it work for you!
Create files
As we discussed, whether you're paper or digital is a personal choice.  Things are moving more to the digital realm, but sometimes it's still nice to have a hard copy.
You might think you can just wing your documents in either format, but it's never very reliable.  You don't want things to back up, or worse yet, get lost. Create files that make sense to you, and work to keep everything in its proper place.
Even if your desktop is clean, your individual folders should also be organized.  In addition, if you keep paper files, you should have everything in its correct place, not just out of sight.
Organization doesn't have to be a challenge! Take some time each day or week, and keep it in the forefront of your thinking.  It will make your life easier and your workload more productive!
Home Office, Mompreneur, Organization, Work from Home Success, Work from Home Tips