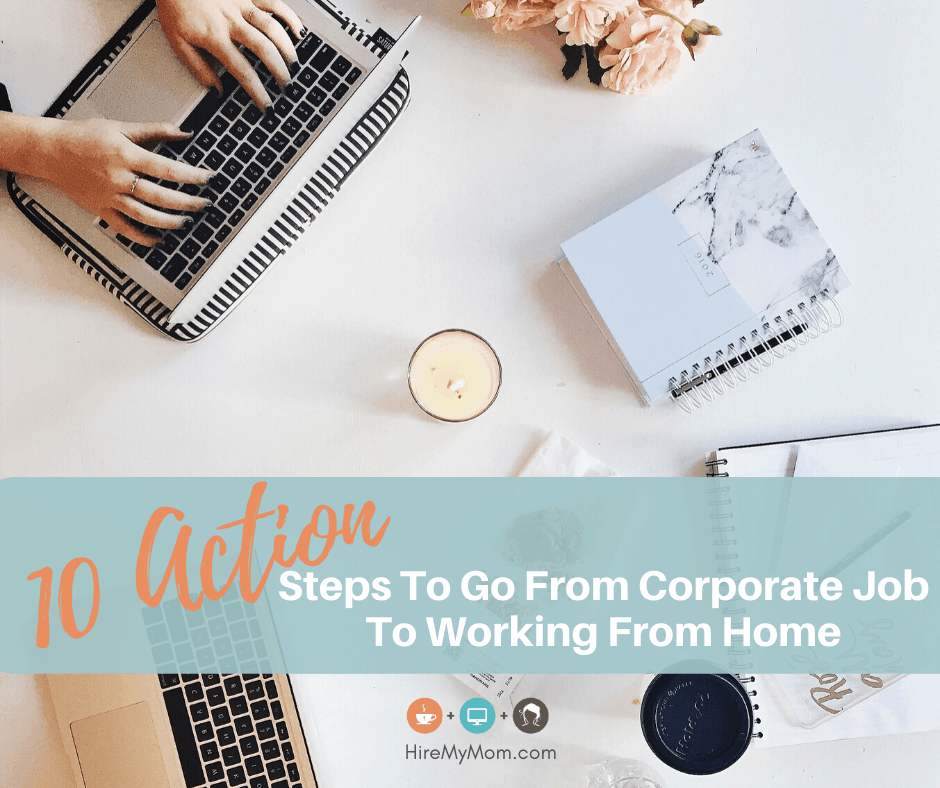 10 Action Steps To Go From Corporate Job To Working From Home
So you've made the decision to transition out of that corporate job into working from home. Let us be the first to congratulate and celebrate with you! As a mom who made that same decision for her life and family and as a business woman working with mom professionals for over 20 years, I know full well what a huge stepping stone this is for you.
While this is an exciting time of change and looking forward to a bright future of following your passions and doing things your way, it can also be a scary time full of uncertainty and unique challenges that you did not face with a corporate career.
Here are 10 actions steps based on my own personal experiences, advice from mentors and networking with other moms who have successfully transitioned from a corporate job to working from home to help you navigate this new territory.
1. Fire Your Fears
You fired your boss and now you will have to learn how to fire your fears. Fear of the unknown, fear of failure, fear of not having all the answers, fear of doubt, fear of comparison and yes even the fear of success and the responsibility that comes with it. While a corporate job is not perfect there is a certain level of assurances like knowing where your next paycheck will come from.
Doubt will creep in at times so embracing that as a new normal, one that everyone goes through, will help you work through those moments a lot easier. You know yourself best and what works so make a plan of how you will feel the fear and push forward any way (prayer, meditation, exercise, etc.)
2. Create A Schedule
There is something to be said for having a routine. Most humans thrive with one and for us moms, a schedule is a necessity. With a corporate job you surely had a time you needed to be up and a time the kids needed to be dressed in order to make it out the door on time or your day most likely got thrown out of whack.
While having an at home business has the advantages of flexibility to work when you want, how you want and where you want at the same time without a schedule your day will feel like a free for all and your productivity will be minimal. It will probably take some tweaking to figure out what works but having a daily schedule will be crucial to your success.
Some tips of the trade include batching your work on certain days like for phone calls, computer work and for running errands. Sure, there will be hiccups along the way but a schedule ensures you can quickly get back on track. Communicate with your family so they know what to expect; time you have set aside for work and time for family.
3. Develop A Network
Working from home can be a huge blessing, without a doubt, but it can also feel isolating. Relationships you had through your corporate job may even fade away as others don't understand or unfortunately feel jealousy about your new path. Having a network of like minded moms who understand the struggles of mompreneurship can be a priceless asset for you to tap into.
4. Consult An Accountant
Being your own boss comes with it's perks like business expenses and tax write offs but it's important to know up front how to run your business legally and professionally so there are no surprises down the road. Depending on your state, you could be required to create an LLC or DBA and file for a federal tax ID number in order to do business. Find out these requirements up front and put a system into place for tracking your business expenses. Tools like FreshBooks and QuickBooks are great resources to help keep you organized.
5. Create A Vision Of What You Want
Setting goals is a measurable way of tracking your home business ambitions. Take some time to create a clear vision of:
How much income you want/need on a monthly basis

The number of clients you need each month to reach that goal

What a life of having a full time business doing what you love looks like

How you want to feel as your own boss

How you will use your business to serve and give back to others
6. Stand Confidently In Who You Are
You will soon find the world of business ownership to be a very noisy one. There is no shortage of "experts" out there trying to tell others the best way to run a business. While mentoring and coaching can be beneficial it's also important that you stay out of the advice rabbit hole and stand firmly in who you are and what you want for your life and business. This will require putting on a filter and using discernment to sort through the make $10K your first month sales pitches, fear of missing out marketing tactics and gurus selling programs.
7. Get Up And Running
While it's okay to plan out your business and approach it in an organized fashion, you will also have to let go of things like perfectionism and having all the answers before taking action. This journey will require taking leaps of faith and being okay with building your wings on the way down. You will make mistakes but you will also learn from them in order to do it better next time. If you sit around trying to create the perfect website, perfect business cards, perfect marketing strategy before taking action you will be sitting stagnant and definitely not making progress to reach your goals.
Focus on the most important pieces of your business that you need to get up and running and go find your first client.
8. Hire A Coach
Running a home based business will come with it's unique challenges and require you to tap into yourself in a way that you may never have before. Hiring a business coach can be a great asset in helping you navigate this transition more smoothly so you aren't figuring it all out on your own (saving you time and money). This may or may not be in the budget. If it is, do your due diligence and find a coach that specializes in the areas you need most.
If hiring a coach is not in the budget right now, seek out business coaches and learn as much as you can from them through their free tools like blog posts, email newsletters, etc. until you can afford more one on one coaching.
9. Have A Creative Outlet
While there is a lot of marketing out there referring a home based business to things like "the dream lifestyle you can do from your laptop while sitting at the beach" it's far from being that glamorous especially for someone just starting out. It's not a path free from stress, actually quite the contrary so while you need to have a plan for how you will run your business it's equally important to have a plan of how you will decompress.
Having a home based business means you can make more time for the things you love to do so do them. Read more books, go for more walks, do more painting, play your piano more. As you make plans for how you will work, don't forget to also make plans for how you will play and enjoy life.
10. Get Frugal
Transitioning from corporate job and stable income into a home based business with fluctuating revenue means you will have to rethink your spending habits. Adopt a budget and get more frugal to guard yourself from financial stresses. Running a business and navigating these new waters will be hard enough without adding money problems to it.
Shop more thrift stores, clip more coupons, go through your expenses and see where you can trim some fat. There is no shame in being frugal, it's a smart savvy way to live especially while starting up a new business.
I hope these action steps have inspired you as you transition from corporate woman to CEO Mom Professional! I believe in you and I pray you know God does too.
If you found these tips helpful be sure to pin it to a Pinterest board so you can easily find it later. Are you looking for more support as a mom professional transitioning out of the corporate arena to running a full time business from home? Join our community of mom professionals and check out our latest job postings.
home business, Mompreneur, Work From Home, Work from Home Success, Work from Home Tips