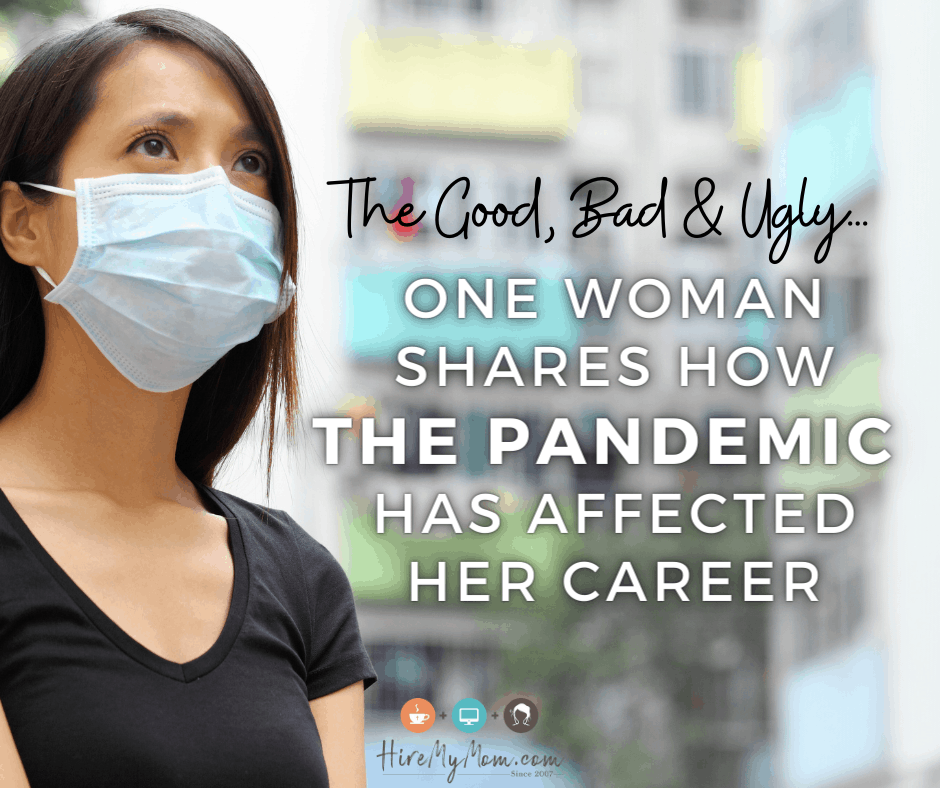 The Good, Bad & Ugly. One Woman Shares How The Pandemic Has Affected Her Career
A disproportionate number of women have left the workforce since the pandemic began compared to their male counterparts, with four times the exodus. After 2.3 million women dropped out of the labor force between February 2020 and February 2021, women's workforce participation declined to 57%—the lowest it's been since 1988, according to NWLC. 
Not only that, the current unemployment rate for women has more than doubled compared to the pre-pandemic rates, with many economists predicting that this workforce departure could set women back a generation. 
These statistics leave an impact of their own, but it is vital to remember that these numbers do have faces behind them. The good news is that there are networks and platforms out there that are specifically committed to supporting women and particularly moms who balance both careers and motherhood. 
Let's take a look at one woman who, thanks to being a part of the Hire My Mom network, was able to go from looking to be hired to the person doing the hiring. Rhonda Dobbs' testimony is an example of how companies like Hire My Mom can uplift women, and mothers, in the modern work world. 
Rhonda Dobbs, the CEO and Founder of Legacy Solutions Together, LLC—reports on her former job as the Inspectional Services Administrative Assistant. 
Do you feel your company did or did not help to support you through the pandemic? 
My previous company did not support me through the pandemic. I worked for a local municipality. We were laid off because the state shut down due to the pandemic. There was no opportunity to do administrative work from home, even though I offered to do so. The state did not want to continue to support staff because of fears of insecure access via the VPN.
What are some ways that you feel your company could've better supported you? 
The local government was not prepared to go remote, and so we were sent home with pay based on the Federal Government law, at that time, for the pandemic. I was left with finding something new in an extremely disparate time, or waiting for an undetermined amount of time to go back to a job that didn't value what I brought to the table.
I decided to walk away, and first ended up as a 1099-contractor virtual assistant for two companies—Heartcore and Summit Support. Getting laid off and then gaining skills from those first two companies ended up being a blessing in disguise. It opened a new door, and I haven't looked back since. 
I ended up getting the opportunity to be an independent contractor with a seven-figure company. The company is a woman-owned business offering coaching programs, summit launches, along with virtual assistants who support you from beginning to end. They taught me how to offer summit support, along with connecting me to an amazing client who is a six-figure earner of multiple companies. I learned so much from that client, who ended up being more of a mentor within the progression of my career. Our ongoing relationship is something I am forever grateful for. 
Learning that it doesn't take a large amount of capital to start a business was a key lesson for me. Additionally, it takes a belief in yourself, a mindset change, the removal of negative energy, and intentional connections to help you pivot to the next level in life. I encourage people to self-educate themselves and never stop learning for both personal and professional relationships. Standing in your authority and knowing your value will make you unstoppable.
Were there any technological tools that were newly implemented into your remote workday that you feel were especially helpful?
If yes, how was it adapting to using these new tools, and did your company provide resources and support?
Working remotely actually gave me the opportunity to learn even more digital skills on a wide variety of apps such as Teamwork, Google Workspace, Slack, Voxer, WordPress, Zoom, Webinar, as well as in Acuity and Client Retention processes.
HeartCore provided support and training for each of the platforms. I also did self-education to become more versed in using the platforms. With all of this experience, the  biggest win was becoming the CEO and Founder of Legacy Solutions Together, LLC. I am walking in my purpose and developing the greatness in me and others!
This is just one perspective. There are varying degrees of what a woman must defy in the negative circumstances in a 2021 work world. Regardless, it is important to note that a McKinsey analysis has shown that women's jobs are nearly two times more vulnerable than men's.
McKinsey research has also found that gender diversity is the key to a business's financial success. Companies that fell in the top quartile for gender diversity were 25% more likely than those in the 4th quartile. Following Rhonda's example from above, we can see how companies supporting their employees, with the tech tools and training they need, can keep women in the workforce, and the workforce in action.