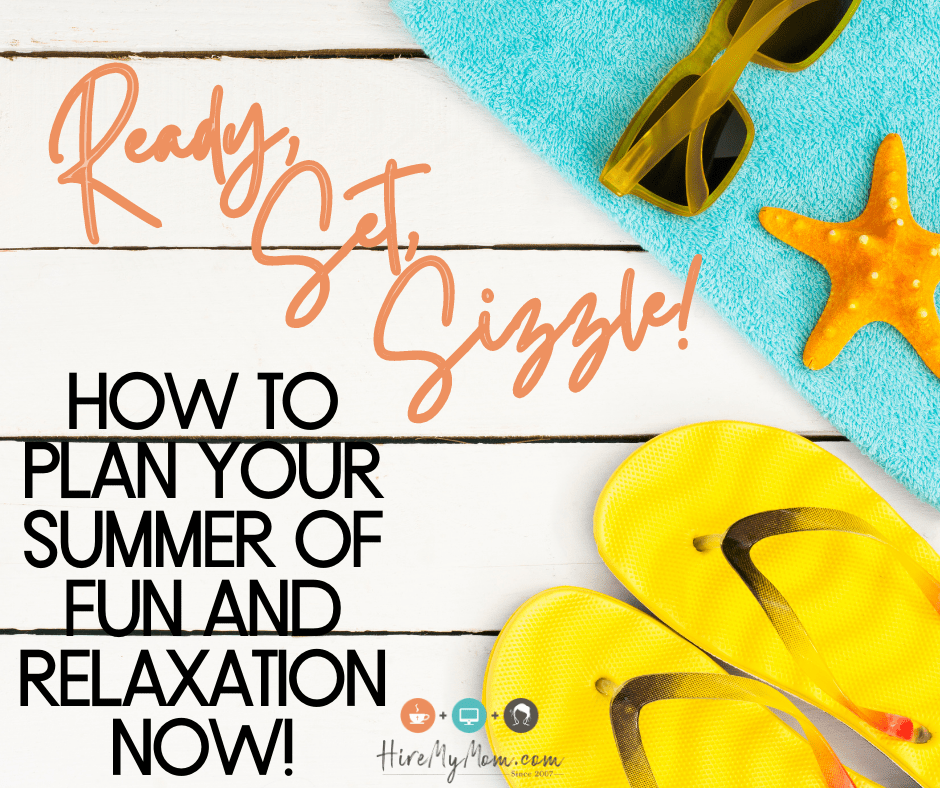 Ready, Set, Sizzle! How to Plan Your Summer of Fun and Relaxation Now
Summer is around the corner. If you're a working mom–especially a work-from-home mom, it's time to make a plan. 
The prospect of planning a summer's worth of activities is always daunting. But, let's take a minute to acknowledge that it's more complicated than usual this year. In many parts of the country, COVID-19 led to school disruptions for all or part of the school year. What's more, many locations remain in restricted mode due to COVID infections. So, some typical summer activities, like in-person camps, are still up-in-the-air in many places. Understandably, different families have different perspectives on what activities are safe or will be in June. 
All that said, summer is still coming. And, if we ever needed a collective chance to exhale and have fun, it's this summer. Here are my best tips for considering your options for work and play and making a plan that works for you and your family. 
Grab Your Calendar
When you work at home, a summer plan is the key to success, and the first step is mastering the calendar. Map out your summer by:
Confirming school start and end dates.

Crossing off any dates that you know are already taken with family commitments, vacations, visits, or sports. 

Identifying weeks that are likely to be extra busy based on professional obligations, personal commitments, or deadlines. 
Think About What You Want
Next, it's time to think about your desires for the summer. It's been a long road, and prioritizing yourself now can pay dividends in the long run. There's no shame in carving out some personal time. Consider:
How are you feeling after this crazy pandemic year?

What are your goals for the summer?

Do you want to work more to make up lost ground? Or are you interested in working less? If so, is it feasible?

How do you want your schedule to work? 

What are your child care needs?
Talk With Your Family
Start by checking-in with your spouse to set goals and discuss summer plans more fully. Then, ask your kids how they'd like to spend the summer. Creating a summer bucket list is a fun way to start this conversation. Identify the "must-do" items you all agree that want to fit in this summer. 
As you generate the list, include a wide variety of experiences that range from big goals, like going on vacation, to smaller goals, like having family game nights. If you expect to have child care for the summer, mix in some options that take advantage of that help. For example, a goal to visit each park in your town or visiting six different parks in one day can make for fun and focused activities for your child care provider.
Find Child Care
Now that you have a better sense of how the summer may unfold, it's time to source the proper child care. Luckily, summer can offer a wide variety of options, from private care to camps. Here are some ideas to consider.
Enlist family members to help.

If you have local family members who are willing to step in and help with child care, reach out and sign them up now. The sooner, the better to get on other people's calendar. This is a low-cost way to know that your kids are in good hands. However, some people find it stressful to have family members managing child care. So, weigh the pros and cons before you commit to this approach to child care, especially if you need a lot of help this summer. 

Hire a high school or college student to work as a nanny.

Many students are looking for summer jobs, and taking care of younger kids is often a popular option. While this may be more expensive than some other options, it can be economical if you have several children. In addition, it tends to offer the most flexibility and gives you the most control over virus exposure since your child care bubble is small.

Form a co-op with other families.

If you have schedule flexibility and are willing to share child-care duties with another family, a co-op arrangement may be right for you. In this scenario, you and like-minded families will trade-off child care duties based on an agreed-upon schedule. This keeps costs down and provides built-in playmates for your kids. However, it does require you to do some extra work in coordinating and caring for additional children for a portion of the summer. 

Sign up for summer day camp.

Day camps are a tried and true part of summer child care. They are often offered locally by a wide variety of groups. In many cases, the kids stay outside and busy or are deeply engaged in activities they enjoy. It also creates large blocks of the day for you to work. On the flip side, availability can be limited, prices vary, and getting out the door each day can create some crazy mornings.

Send the kids to a trustworthy overnight camp.

A week (or more) of summer camp can be the perfect solution for some families. Going away to camp offers a great experience for kids, lets them build new social muscles (vital after a year with limited or interrupted school), and meet new friends. It also gives you and your spouse a short vacation from active parenting so you can pause and get refreshed and maybe even take a real couple's vacation. Or, if you have a week that looks extra busy at work, an overnight camp can help make that week easier for you. However, it can be an expensive option, and some camps may be operating on a limited basis. 

Consider summer school.

After a crazy COVID year, summer school might be an excellent way to stem learning loss. It can also be a low-cost way to keep kids busy while you work. Check with your local school district to determine what they are planning for the summer term and who is eligible to attend. Many schools plan to offer expanded summer school options this year, and the sessions are often free or very low-cost. Many children may welcome the break from Zoom school and the sense of normalcy that comes from going to school, even if the season seems out-of-sync.
Share Your Ideas!
The long days and warm nights of summer will be here before you know it. Enjoy the process of planning for your summer. Please drop me a line and let me know how you will enjoy summer this year.
Being Mom, Health & Wellness, Lifestyle, Mompreneur, Work Life Balance