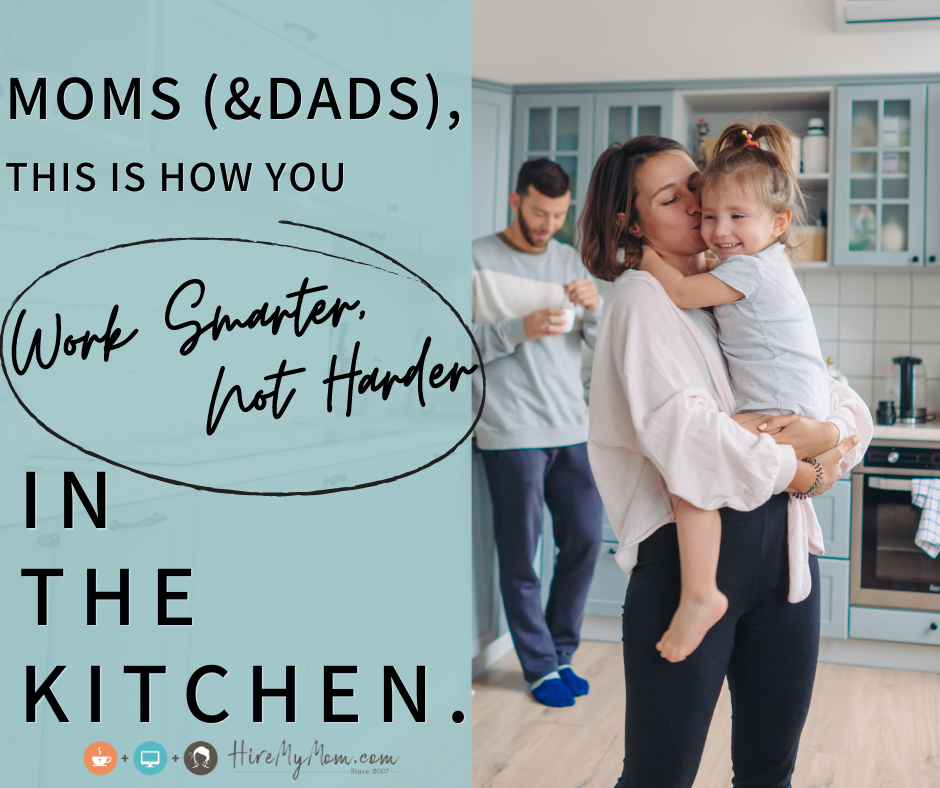 Moms (& Dads), This is How to Work Smarter (Not Harder) in the Kitchen
Are you running through groceries at an astonishing rate and finding dirty dishes in your sink every time you turn around? Like many people, I'm surprised by how many meals and snacks are pumping through my kitchen with so many of us home due to COVID 19. Here are our best tips for taming the associated workload.
Create and Post a Weekly Menu
If I could only do one thing to ease the cooking and kitchen clean up workload each week, it's this: Create a weekly menu that covers all meals and snacks and hang it on the refrigerator. Direct your children to the menu when hunger strikes. (Make sure that some of the snacks can easily be grabbed and opened by young kids. For really young kids, include pictures of items they can select and make them easy to reach.) Having a posted menu reduces the discussion around what's available to eat, eliminating a distraction for you as you work. Frankly, this one action will buy you untold peace of mind and help you reclaim time every day.
If creating a menu sounds like one more task to add to your already full to-do list, help is available through online meal planning services. Several options are available, and they all let you select a week (or more) of meals quickly and easily. They cover breakfast, lunch, and dinner, so it truly eliminates the scramble that accompanies menu planning and food preparation. You can choose meals based on your health goals, family preferences, and budget. Good options include eMeals, SideChef, Plan to Eat, and Recipe Keeper (my favorite). Once you choose your meals, you can automatically create a shopping list for the meals specified. A few additional tips:
Cross things off the menu as people eat them–you may find that the dinner you planned for Wednesday night gets moved to Monday, no problem–swaps are easy as long as you keep track.

Leave a blank space on the menu where family members can jot down meal and snack requests to incorporate into your planning.
Make it a Family Affair
There are many good reasons to share meal planning and clean up across your family and involve the kids. For starters, it gives you a break during a season that includes a lot of cooking. What's more, your kids can develop valuable life skills in running a home, managing a budget, and healthy living. There are many ways to delegate responsibilities between family members. For example:
Put an older child in charge of generating a weekly menu using the menu planning app you prefer. Set a budget and provide goals to consider while planning. (Bonus if the kid is old enough to go to the store and get the groceries.)

Assign a day of responsibility for planning, sourcing, and preparing all food for one day each week to older kids. (For example, Connor owns Monday meals, Lindsay owns Tuesday, etc.)

Share duties by meal, with one person responsible for breakfast, lunch, or dinner all week. 

Ask younger kids to set the table, clear the dishes, or help prepare salads. 
Finally, create a task-specific cleanup calendar, so everyone shares in the clean-up load. Kitchen clean up goes a lot faster if everyone participates. Assign clean up duties to each family member on a rotating basis and agree on the standard of clean that counts as done. There's nothing worse than having to call back a reluctant cleaning crew who forgot to wipe down the counters.
Master Lunch
Let's talk about lunch. It's smack in the middle of the day, and people eat on a rotating schedule with different meetings and classes ending at varying times. Let's face it, stopping to prepare a meal in the middle of the day is disruptive when you are trying to work. A little planning can go a long way toward making lunch easier for you and more convenient for everyone. Try this:
Use school lunch services, if possible. Even if school is not in session, lunch is still available through many school districts. If your school district is offering lunch to-go, consider taking advantage of the service. Check with your school for details. 

Think leftovers. When you create your menu each week, plan for leftovers that family members can quickly reheat and eat for lunch. You can even have the cleanup crew package leftovers into single-serving lunch options that can efficiently serve each person when his/her lunch hour rolls around.

Go big. Prepare large pots of soups or chili and leave them simmering on the stovetop so people can self-serve when they are ready to eat. 
Inject Fun!
Last but not least, try to add some fun to mealtimes. When you cook all the time, it's easy to fall into a rut making the same things over and over. But, thinking of themes can help bring the fun back to mealtime. Here are some ideas to get you started:
A week of Tex-Mex cuisine.

Italian dinners, including an old school pasta night and lighter options inspired by Italy's different regions.

A retro week focused on popular menu items from decades past, such as meatloaf or Salisbury steak to celebrate the 1950s. Check out old recipe books to find some gems that your family will love.

Ask each family member to pick a number, turn to that page in a seldom-used cookbook, and ask the number chooser to prepare the item that appears there.
Please Share!
I'd love to hear what's working for you and how you are managing mealtime. Send me a note with your best meal-time tips.