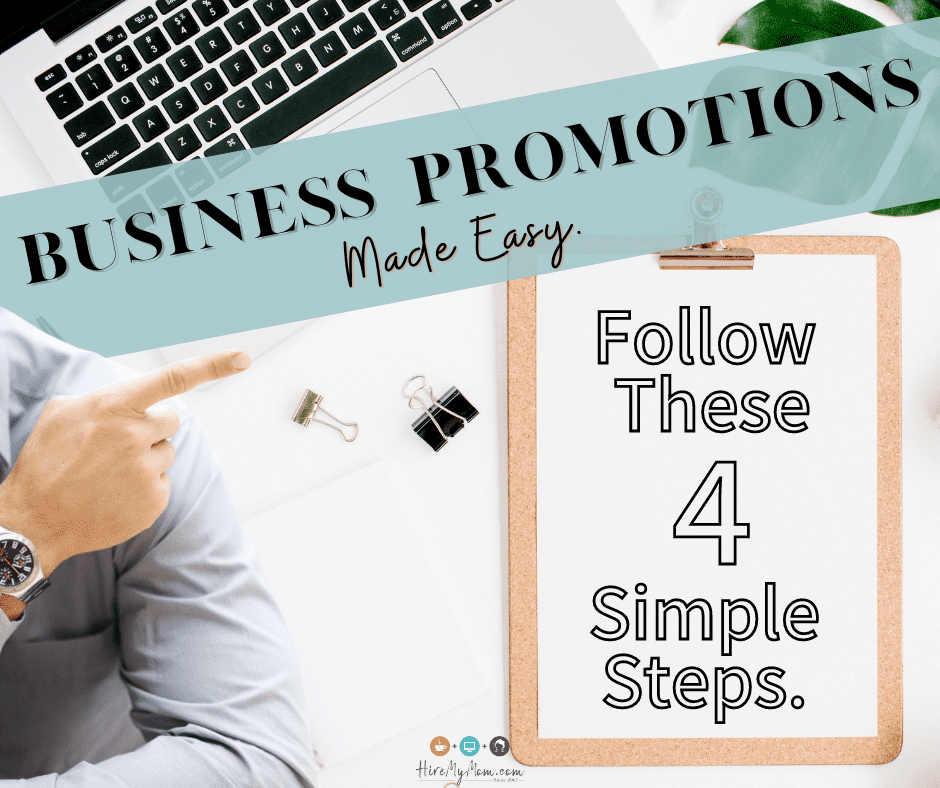 Business Promotions Made Easy with These 4 Simple Steps
Social media is an inescapable force. It appears on your phone, it can drive a news cycle, and it is the basis for many conversations between friends and neighbors. Love it or hate it, social media is an efficient, low-cost way to reach a broad audience to promote your business and grow your brand. More and more, small businesses are using social media to interact with customers and potential customers. (Check out our prior posts on creating a stand-out social media presence.) One of the key ways social media can grow your business is through promotions. Here's a step-by-step guide for finding and running the right social media promotion for your business. 
Determine the Goals for your Promotion
In addition to generating buzz about your business, promotions are great tools to achieve specific objectives. So, as you consider a promotion, think about your purpose. Because there's a vast universe of promotions, there's not a one-size-fits-all prescription for promotional goals. Some potential options include:
Gaining followers

Growing engagement

Finding referrals

Promoting loyalty

Sales of a particular item or over a specific time frame
Once you know your goal, it's easier to choose the right promotion and create an offer meaningful to your followers.
Craft Your Offer
Crafting the offer's specifics is often the most fun (and challenging) aspect of the process. In general, the offering should be unique to your business and feel special for your followers. Consider your overall value proposition and how your offering could drive engagement. Make sure the promotion offers something that your followers will find desirable.
Specific promotional options are endless. Here are some ideas to help get you started:
Contests, including scavenger hunts, talent or art competitions, kid writing or coloring contests, product raffles, or prize drawings, often generate a lot of participation.

Free items, like a gift with purchase or a small free item during certain hours/days, can drive business during slower times.

Discounts and coupons available to anyone who shares your promotion or earned with specific interactions, such as tagging friends or starting to follow your social media accounts, are popular options.

Swag giveaways of premium items, such as mugs, hats, pens, and branded water bottles, can really bring out your fans. Many business owners like to give away promotional items because it results in free advertising as customers use them.

Exclusive access opportunities are a great option to drive traffic to shops, restaurants, and events. Social media followers can gain exclusive access to your business/product based on the steps you outline in your promotion or by using your website or other online processes to make a reservation.
As you consider your offer, keep the potential prize proportional to the entrant's investment to participate. For example, don't give away a high-value item to everyone who shares your link. Likewise, if you ask your followers to make a significant investment in your promotion, such as creating a meme that shows why they love your product, the pay-off should be more exclusive. If you conduct a contest, you may need a panel of judges (such as employees or other superfans) to pick a winner for your prize. Discounts in exchange for link sharing are generally a good trade-off in this area. 
You also want to make sure that the graphics that you have for this campaign shows your business logo, too. This helps familiarize your audience with your logo and improve your brand awareness. Designing a professional logo is easy with the use of logo makers such as BrandCrowd or working with graphic designers.
Next, develop a timeline for your promotion. Include plenty of time to do any pre-work and build in some time for follow up and assessment.
Draft a Communication Plan
With your offer and timeline in hand, it's time to consider your communication plan. Communication is the key to a successful promotion. Look at any existing communication plans you maintain and see if opportunities exist to take an upcoming communication or advertisement and add information about your promotion. Depending on your goals, consider a mix of social media and traditional vehicles for reaching your audience.  
Then, prepare your posts and other media well in advance of your start date. Be sure to:
Clearly outline how the promotion works, including any exclusions or deadlines.

Include plans to publicly share the name of your promotion winners, if appropriate. 

Thank everyone who participates. 

Share your appreciation for the enthusiasm your followers show around the promotion.
When the launch day arrives, deploy your communication materials and monitor the feedback you are getting on your posts. Posting comments and making updates based on questions or comments that appear will let your audience know that you are engaged in the promotion. To help keep your promotion top-of-mind, regularly share information about it with your followers.
Assess Your Results
When the promotion ends, take a look at how it went. Consider:
Did you meet your goals?

Did managing the promotion take the time you expected? Less time? More time? (If the answer is more time, you might want to hire a Virtual Assistant to help in the future.)

What feedback did you hear from those who participated? How about those that mentioned the promotion to you but didn't participate?

What did you learn in the process?
Answers to these questions will help you craft even more successful promotions in the future.
What's Working for You?
Promotions are a fun way to drive business. We'd love to hear about your experiences–the good, the bad, and the ugly. Drop me a line and let me know what promotions you've tried.