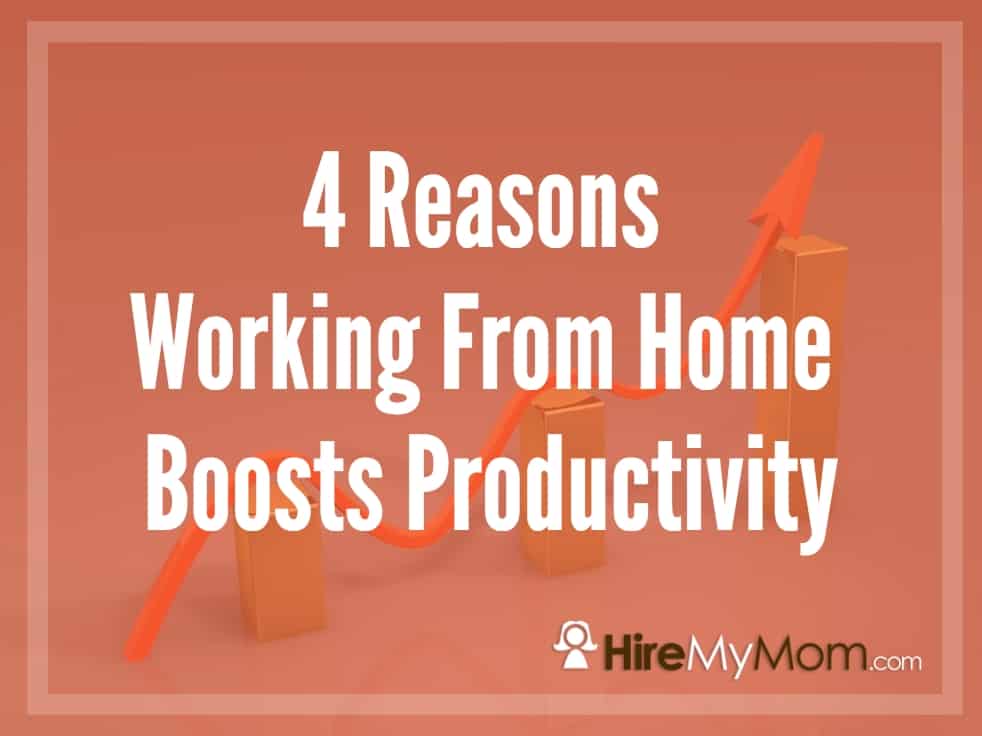 4 Reasons Working From Home Boosts Productivity
We've all heard it – working from home results in greater productivity! This is great news, but have you ever stopped to ask why this is?
Sure, you eliminate the commute and probably a few meetings, but there are other reasons that work from home productivity seems to be a common theme.  You would think that being home would make it easier to be distracted! However, this doesn't seem to be the case.
Less distractions
Yes, you're actually less distracted working from home, as long as you establish a clear schedule and good boundaries from the beginning.  For one, there's far less workplace chatter! It takes a concentrated effort to speak to your employer and coworkers from home, and those conversations tend to be more task-focused and less random.
Additionally, communicating is quicker.  You don't have the meetings that take a lot of time to gather everyone up.  Impromptu meetings and chats are also more rare, so you're more likely to only meet up when it's really necessary.
Lastly, most work from home jobs require a person with a lot of work independence.  In most cases, no one managing you too much, so you're responsible for completing your work on your own, and on your own time.  This is great for productivity, as you don't have the distraction – and slowdown – of being constantly managed.
Less sickness
No need for sick days when you work from home! That's probably not 100% true, as there might be some sicknesses that really do not allow you to work – at all. Either way, sick days will be greatly reduced.
Whether you're a little under the weather or need to care for a sick child, you likely won't need to take a day off to do this.
You can stay
If your child gets sick at school or a need pops up in the family, you can stay and handle it.  You might have to run out briefly, but it doesn't require leaving work, covering your projects, informing bosses, and so on.
You have the ability to complete mundane and emergency tasks in between your workload, making it much easier to pick back up where you left off.
More time
You simply have more time to get work done when you work from home. First of all, there's no commute.  Even if you choose to work at a coffee shop or co-working space, it's not necessary and it's likely much closer to home than a traditional office would be.
This obviously allows you more time to be actually working, and those 2 hours when everyone else is commuting?  You're able to get work done!
Lastly, one of the downsides and benefits to working from home is the lack of interruption and lingering breaks.  It requires a schedule to set up a lunch meeting with friends, versus simply running out of the office for a lingering lunch.  This is great for productivity, but be sure to continue to schedule in social activities to stay social.
Working from home truly boosts productivity in so many positive ways.  If you're a strong, independent worker who likes some flexibility, working from home might be for you.  Just be sure to schedule in social activities to keep yourself out once in a while, and continue to communicate with friends, coworkers and employers as much as possible.
home business, Mompreneur, Work from Home Success, Work from Home Tips