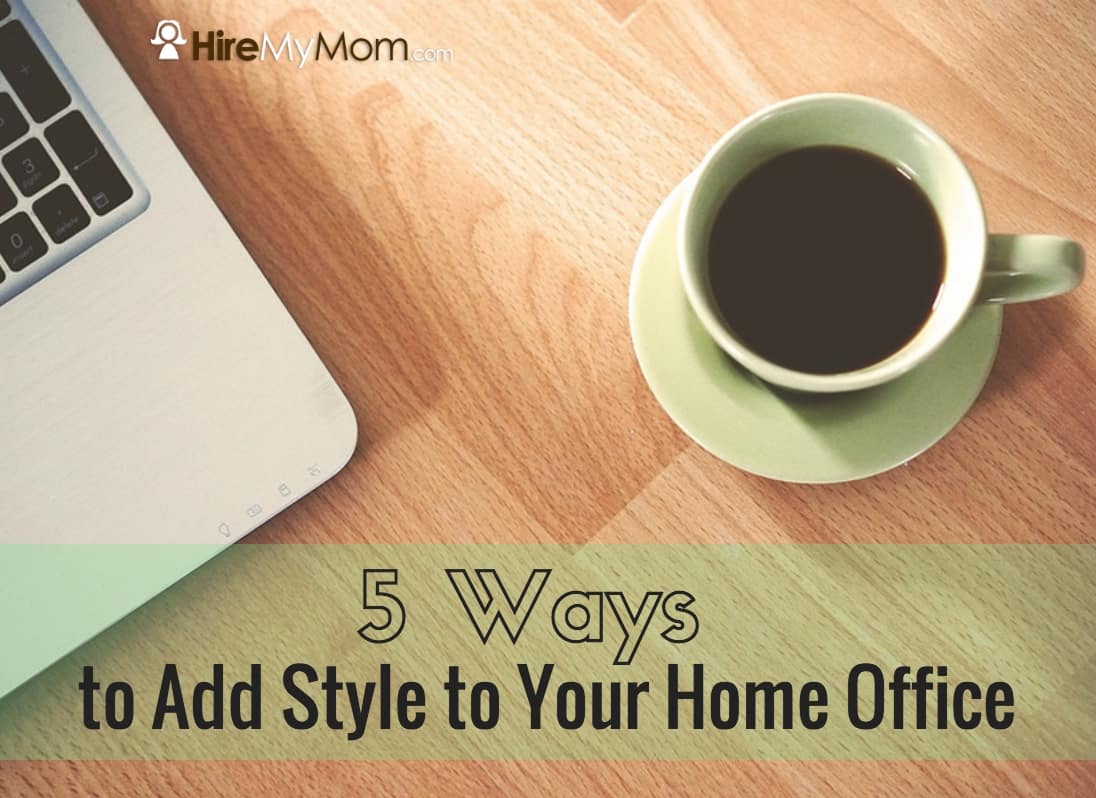 5 Ways to Add Style to Your Home Office
When you work from home, you're bound to spend a lot of time in your home office.  We've already discussed the importance of having a separate space just for work, but does it inspire you?
While your office doesn't need to look like it came from the pages of a home design magazine, you can add small trinkets or design elements that make it feel fun and like home.  After all, you want to be comfortable (and inspired) while you work!  Read along for some easy tips and tricks to make your home office into a comfortable, beautiful space that's all your own.
Add some color
Color can change an entire room! Think beyond basic white or beige and add some bright, fun paint or simply incorporate colorful items.  Another idea is to do one or two basic colors with one bright pop of color incorporated gently throughout.  A little bit of color adds a lot of style, as your eye will be drawn to that and it will make the room seem more complete.
If you're a bit afraid of color, start by thinking of your favorite one and add it sparingly among more earthy, basic tones.
Here are some expert tips to help with color in your workspace.
Organization
Storage can be fun! There are so many unique and innovative boxes, bins, and shelves to use for purpose and style.  Did you know that floating wall shelves come in a ton of different patterns and colors?  Start somewhere like The Container Store or Target for accessible options in price and style.
Another avenue of organization can come in the form of desk organizers, planners, and fun touches like chalkboards and white boards.  Take what you love about organization – and what works for you – and put a stylish spin on it.  Make it part of the room, instead of having to tuck it away because it doesn't go with the color scheme.
Decor Items
There are so many decor and design elements that you can consider in a home office.  From lighting to rugs to fun knick knacks (just avoid overcluttering!) and organization items, there's never a lack of ideas for adding fun to your office space.
Start with lighting – there are floor lamps, desk lamps, table lamps, and more.  With rugs, you can choose small area rugs with bright pops of color or a large area rug that's more functional.  The options are truly limitless, but they are all areas to look into if you want to bump your style game up a notch.
A Stylish Desk
A desk and a nice chair can go a long way to adding style to your home office.  It often seems that these items are just typical fare and aren't very exciting, but you can certainly find desks and chairs in unique colors and styles.  Desks come in a variety of weights and woods, and these days, can even be made in acrylic or lucite.  Chairs can be made to be stylish but ergonomic, padded, or simply fashionable.  Take your pick and use these items as ways to incorporate the color, theme and style of your other office items.
Personal Touch
Add some of your favorite items that showcase your personality and favorite colors. You can also feature your children's artwork, awards or diplomas, and other things that just make your space feel like home.   Personal style is a major part of overall style and look, so don't be afraid to incorporate items that are meaningful to you.
Creating a warm, personal home office is a lot of fun and can add a lot of style to your day.  When our offices are well styled and feel like us, it's easier and more inviting to spend time in them – increasing productivity and efficiency in our daily work lives.
Home Office, Mompreneur, Work From Home, Work from Home Tips